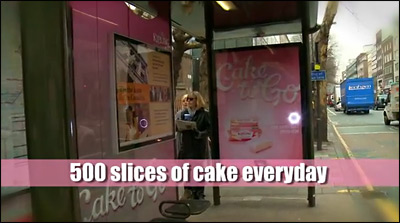 Mr Kipling's  Cake-To_Go dispensers are popping up all over the country at bus stops giving away free Angel Slices at the push of a button along with the aroma of freshly baked cakes until 1st of April.
For more information on the Mr Kipling Cake-To-Go dispensers visit Mrs Kipling FB page.
Mr Kipling's  Cake-To_Go
LOCATION: selected bus stops all over UK
DATE:  until 1 April 2012
ORGANIZER: Mr Kipling
With thanks to Mr Kipling for complementary cake samples.