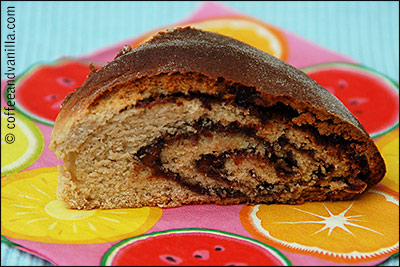 INGREDIENTS
for the dough
600 g plain flour + some more for dusting
3 tbs instant yeast
3 eggs
½ glass of lukewarm milk
1 cup of golden caster sugar
125 g of unsalted butter / half a bar (melted)
for the filling
600 g jar of chocolate spread (I used Nutella)
EQUIPMENT
whisk
rolling pin
two baking tins (I used silicone cake moulds)
METHOD
To prepare the dough dissolve yeast in milk and give it quick stir with whisk, leave aside.
Combine eggs and sugar and whisk until smooth, add flour, melted butter and milk with yeast. Knead the dough on floured surface until it is not sticking to the finger any more. Place in a bowl covered with kitchen towel in quiet, warm place to grow for about an hour.
When the dough has risen divide it into two portions. Roll out each portion with rolling pin on floured surface to about 1 cm thick layer.
Top with half of the chocolate, spread it all over and then roll the dough.
Place the roll in a baking dish.
Repeat the same with second portion of the dough and chocolate.
Bake in the oven preheated to 175°C (350°F) for about 45-60 minutes.
Once the cakes are ready remove them from the moulds and let them cool down before sharing.
Make 2 cakes (8-10 slices each).
NOTES
You can use any other chocolate spread or even jam to make similar cake roll.