I have travelled quite a lot around the Caribbean while working on the cruise ships but have never visited Australasia. Therefore Australia, New Zealand, Papua New Guinea, Tasmania were always places on my "to visit" list.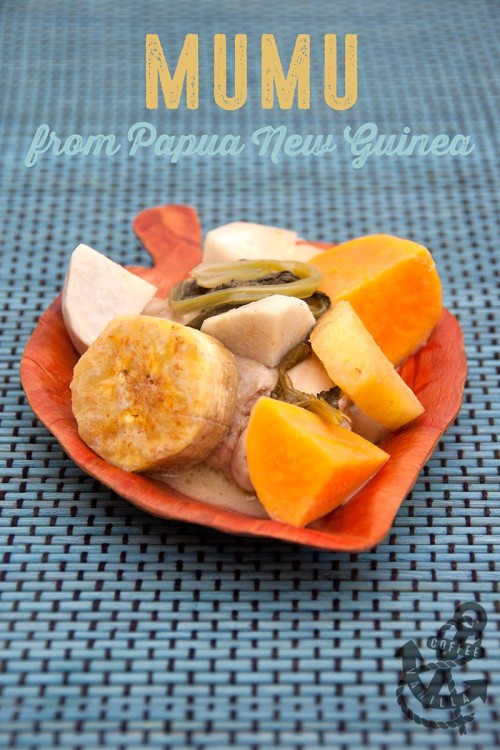 So when I was asked by Travelbag Cruise to prepare Australasian Cruise Dish and explore their cuisine I could not be more happy.
As it is Christmas season the dish supposed to be large, shareable, easy to prepare and engaging the whole family but requiring long waiting time so when the house if filled with wonderful scent of cooked food everyone can enjoy their time together. Preferably the dish would be also healthy, low in calories and fuss free, best made in one pot. And Mumu from Papua New Guinea and other Pacific Islands is one of those dishes.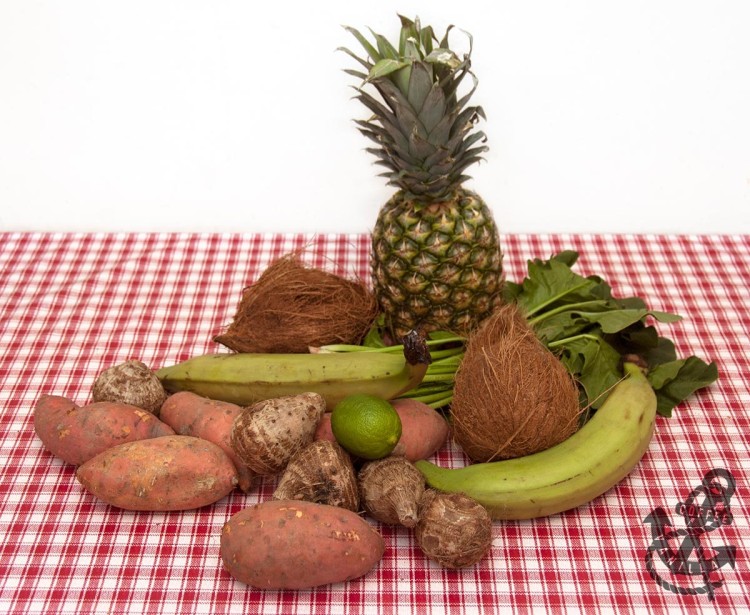 Traditionally mumu is prepared in ground oven / pit hole filled with hot stones, then lined with banana leaves, food is layered: leafy greens, root & starchy vegetables, meat, spices, salt, fruits, another layer of leafy greens and lots of coconut milk. Then everything is tucked in tightly with banana leaves so the steam would not escape. It can be made also in a drum and similarly covered with banana leaves for the steam to stay in. Preparing ingredients for mumu requires engagement of the whole family, men and women, old and young.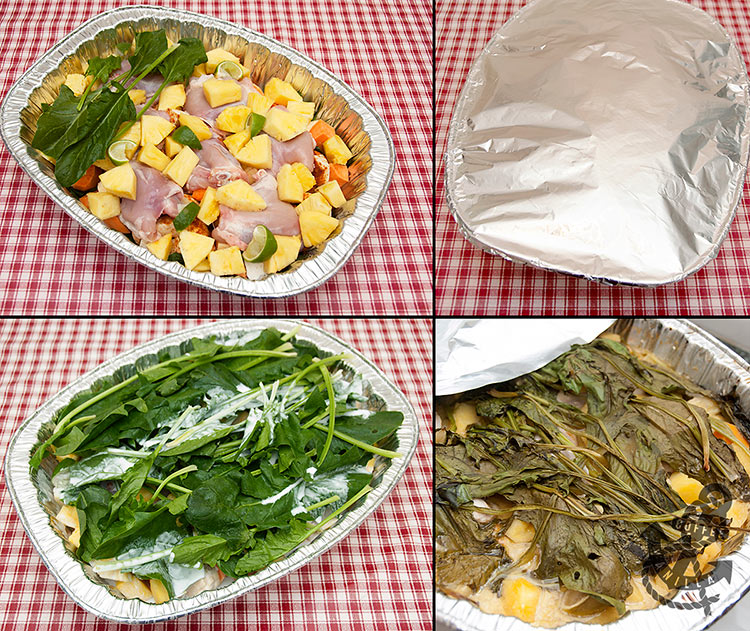 Not having on hand ground oven or banana leaves I decided to improvise. Placed everything in a large aluminium turkey tray and then covered with aluminium foil instead of the banana leaves and placed dish in the oven. Preparing this meal in a slow cooker (if you have one on hand) would be even better option.
Mumu is one of those dishes that do not require measuring or specific ingredients, you can make it from from anything available at the moment, as long as it is layered (greens, starchy root veggies, meat and poultry, fruits and again leafy greens), covered with coconut milk and cooked / baked without stirring.
For my mumu I have used more or less equal quantities (in weight) of vegetables, meat and fruit and seasoned everything with salt, curry powder and lime.
INGREDIENTS
leafy greens: 2 bunches of French spinach (to replace taro leaves)
starchy vegetables: 5 – 6 eddoes (taro roots), 5 – 6 sweet potatoes, 2 – 3 green plantains or green bananas
about 10 skinless chicken thighs (originally it should be pork and poultry, some mumu recipes call for cassowary or turtle, if you have on hand)
fruit: large pineapple
2 coconut milk (freshly squeezed coconut milk or some ready coconut milk/cream)
seasoning: 2 – 3 tbs curry powder, 1 tbs sea salt, 1 lime (cut into wedges)
some oil to grease the pan, I used olive oil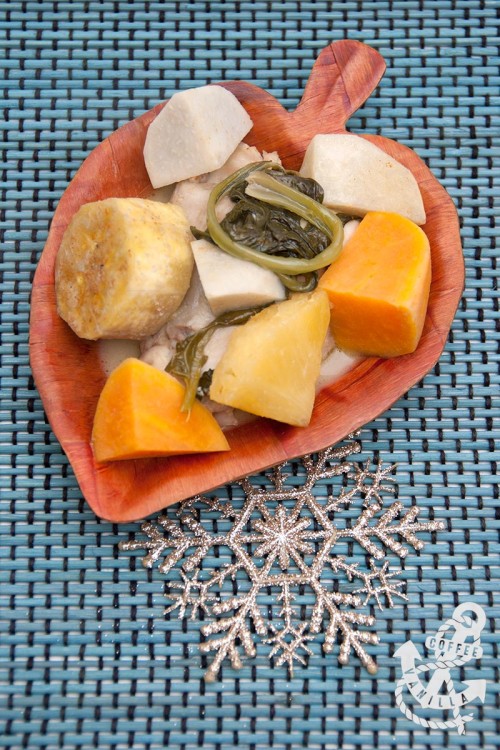 METHOD
Preheat the oven, use maximum setting.
First peel and cube or slice all of the veggies and fruits, bigger cubes for those that cook easily like sweet potatoes and smaller for hard to cook eddoes or plantains.
Wash chicken and spinach.
Cut lime into wedges.
Brush the baking tray.
Start creating the layers: half of the leafy veggies, starchy veggies, chicken or what ever animal protein you are using, curry powder, salt and fruits.
Squeeze lime wedges over the tray and then place them on the top as well.
Cover everything with the rest of leafy greens.
Pour over coconut milk, making sure starchy veggies are fully covered so they will cook properly.
Cover the baking tray with aluminum foil, making sure there is no spaces for the steam to escape.
Place everything in the oven and cook for about 3 hours, reducing the temperature towards the end.
Makes 5 – 10 portions depending on the appetite.
Merry Christmas! or rather Bikpela hamamas blong dispela Krismas go long yu! I should say.
DISCLOSURE: This is commissioned post for Travelbag Cruise. All opinions expressed here are my own and I retained full editorial control.