If you are looking for a way to use up all those leftover Easter eggs here is the recipe for you. It is super easy to make, does not require baking, tastes and looks good.
To make things even better it can be not only made after Easter but after any other occasions when you have plenty leftover chocolate and biscuits. Don't worry, if you don't have any leftover biscuits, you can always make chocolate bark instead.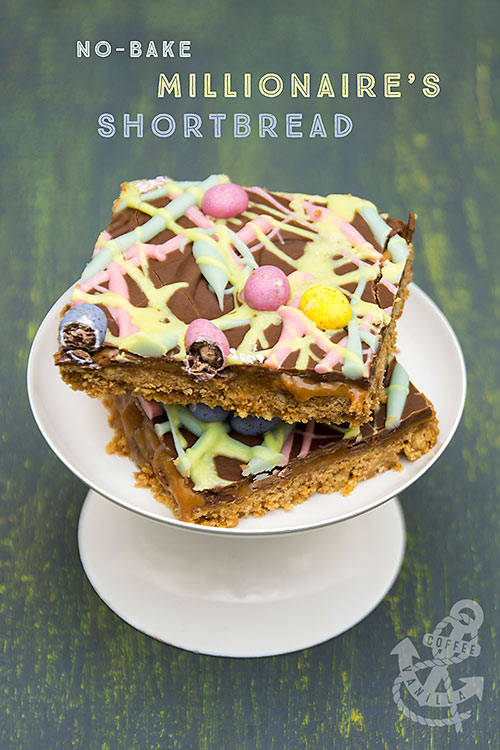 INGREDIENTS
500 g digestive biscuits (crushed)
200 g unsalted real butter
300 g milk or dark chocolate
100 g white chocolate
400 g tin of ready caramel for cooking
food colouring
decorations or sprinkles (we used micro chocolate eggs)
EQUIPMENT
small pot to melt the butter
bowl and  some kind of wooden mallet to crush the biscuits (or food processor)
double boiler for melting the chocolate
extra large baking tray lined with baking paper (like the one that comes with the oven)
spatula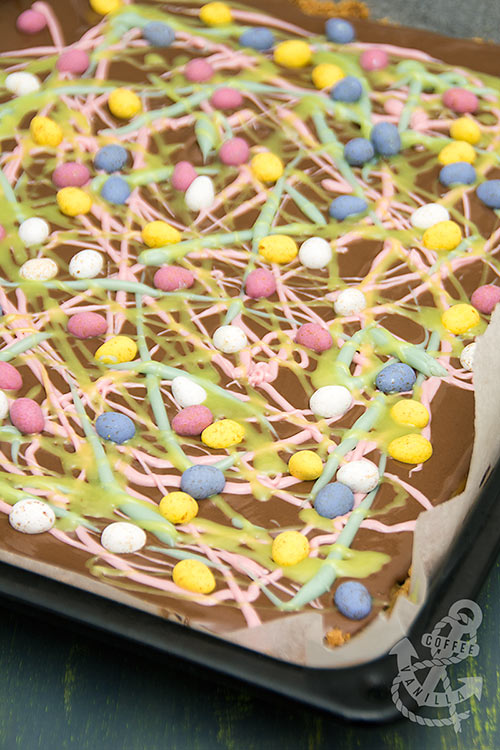 METHOD
First crush the biscuits and melt the butter, combine together and spread into the baking tray lined with baking paper.
Press the biscuit / butter mixture firmly making sure it is more or less evenly distributed. Place in the fridge to set.
Once the base is firm spread caramel on the top and again place in the fridge.
In a meantime melt the chocolate (milk or dark) using double boiler.
Carefully pour over the caramel and spread with a spatula.
If you are using white chocolate, melt it as well, combine with food colourings, transfer to the piping bags and use to decorate the shortbread.
Finish off by topping with sprinkles or other decorations, we used here micro chocolate eggs.
Makes big tray of shortbread, about 24 – 30 portions. 
TIPS
If you don't have white chocolate you can replace it with colourful icing or skip decorating with melted chocolate all together.
NOTES
More cooking with leftovers.
More recipes on a budget.
More classic recipes.
More recipes for Spring.
More Easter dishes and crafts.
DISCLOSURE: This post contains some affiliated links.