Lunchbox # 26 (for 4 year old girl)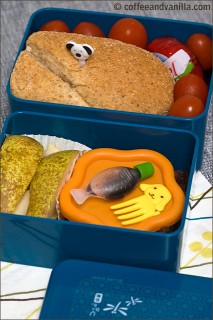 ½ submarine wholemeal bread with butter, chicken ham and mixed lettuce
food pick to hold sandwich together
mini yogurt
spoon
Babybel cheese
baby plum tomatoes
raisins
½ small pear
steamed green beans in mini container with little fork and soy sauce in a fish shaped bottle on a side
bottle of juice
napkin
All closed with lunchbox strap in a zip bag with fruit shaped food chillers inside.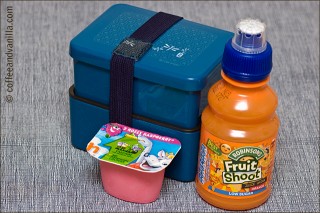 Update:
The lunchbox came back completely empty :)
More lunchboxes coming soon, this is the second one this year for my daughter that just started reception class. Some already existing recipes for Lunchbox Food you can find here.