Lunchbox # 25 (for 4 year old girl)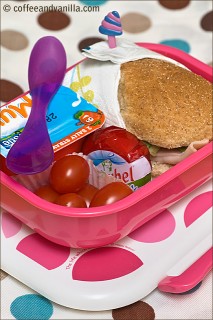 ½ submarine wholemeal bread with butter, chicken ham and mixed lettuce
napkin and food pick to hold sandwich together
mini yogurt
spoon
Babybel cheese
baby plum tomatoes
bottle of water (not pictured)
All closed with lunchbox strap (post about it very shortly) in a zip bag with apple shaped food chiller inside.
Update:
The whole lunchbox content disappeared, tomorrow I will give my daughter a little bit more, maybe it was not enough.
More lunchboxes coming soon, this is the first one this year for my daughter that just started reception today. Some already existing recipes for Lunchbox Food you can find here.
---
This is my entry for my own event: "Wholesome Lunchbox". If you want to participate, please send link to your entry before 15th of each month.