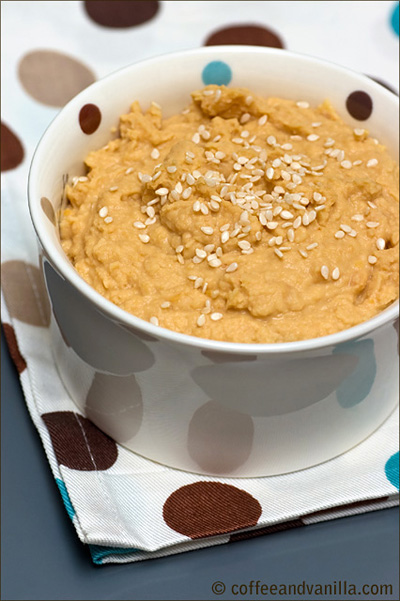 INGREDIENTS
Basic Hummus
1 x 400g tin of chickpeas / garbanzo beans (drained)
½ lemon juice
sea salt to taste
few tbs of boiled water
Garlic Hummus
plus 2 tsp garlic powder / garlic granules
Coriander and Lemon Hummus
plus small handful of fresh coriander leaves
optionally some more lemon juice
Roasted Pepper Hummus
plus 1 red bell pepper (roasted)
Sundried Tomato Hummus
plus small handful of sundried tomatoes (re-hydrated)
less or none lemon juice
Black Olive Hummus
plus handful of pitted black olives
plus 1 tsp garlic granules / garlic powder
Toasted Sesame Hummus
sesame seed oil instead of olive oil
1 tsp garlic granules / garlic powder
Hot Sauce Hummus
plus hot sauce to taste, I used Thai Garlic & Chilli Sauce
EQUIPMENT
hand blender / food processor
METHOD
Blend all ingredients together.
Serve chilled with some fresh crunchy bread or on the top of crumpets.
Make 1 cup of hummus.
NOTES
You may also want to take a look at hummus I made before from "scratch"… from chickpeas that I cooked myself: Lemon & Coriander, Paprika and Sundried Tomato Hummus or Moroccan Style Hummus with Caramelized Onions and Roasted Peppers.
Hummus taste much better next day, can be stored for couple of days in the fridge.