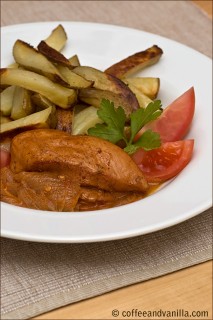 INGREDIENTS
2 tbs Chinese Five Spice
chicken pieces for 4 people
2 tbs Carotino or grapeseed oil
1 cup double cream
3 Maggi cubes
½ tsp chilli flakes
1 tbs paprika powder
1 tbs garlic powder
2 onions (cut into wedges)
1 cup of water
MTHOD
Place onion, chicken and oil in the pot and cook utnil onions turn golden brown.
Add Five Spice, Maggi cubes, chilli flakes, paprika powder, garlic powder and cook covered with 1 cup of water unitl chicken is soft and almost all water gone.
Remove from fire, stir in cream, share immediately.
Serve with some baked potato slices and salad.
Serve 4 people.