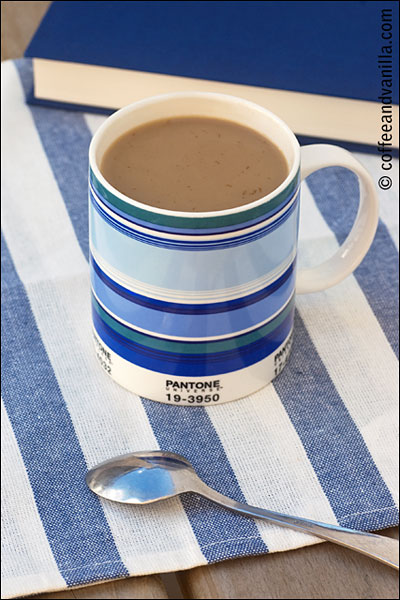 A while ago I found on my door step very fragrant package filled with freshly roasted coffee beans from ZABU Coffee. In addition to the beans coffee grinder was included which I find very useful and not complicated enough to grind a little bit of coffee in the morning while I'm still half asleep, just before brewing it in the cafetiere…
I must admit that it really does make a difference when you freshly grind beans instead of using ground coffee that was seating in jar for days. The coffee is much more fragrant and more economic because you can use less. Usually when I brew ground coffee I use 1 tbs per cup, with ZABU coffee to achieve the same effect I used 1 tbs of beans / ½ tbs while ground. Probably the fact that ZABU coffee beans are roasted and vacuum packed just before shipping have also something to do with the strength and freshness.
The grinder holds enough beans for 6 cups but I was always grinding 2 tbs at the time (for me and my husband) so I could  just empty the whole content of the grinder straight into cafetiere. Another plus is the grinder cable which can be neatly rolled inside the machine while not in use, smart (!)
Below you can read about couple of ZABU coffees I was lucky to test, all of them using 2 tbs of beans per 600 ml of boiling water (for 2 regular size mugs), brewed in traditional plunger coffee maker and then drank with addition of  some demerara sugar and a dash of milk.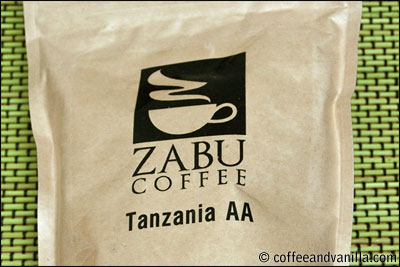 Tanzania AA coffee comes from Mount Kilimanjaro and Mount Meru, is grown in volcanic soil at 1700 m above sea level. Some of the coffee plants are over 90 years old and all of the coffee is hand picked.
I made it yesterday afternoon after dinner and it was a good choice… the Tanzania AA coffee is strong and fruity enough to give me kick when I need energy most, at the end of the day and at the same time smooth, nutty with almost chocolatey finish that make it perfect after dinner treat.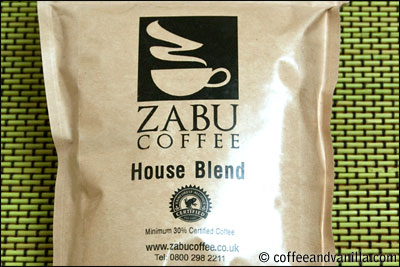 House Blend is Rainforest Alliance Certified and it is a mix of Brazilian, Colombian and Costa Rican, 100% Arabica beans.
It is quite mild but full of flavours from different beans: smooth, nutty with a little bit of fruity notes as well. Suitable for any time of the day.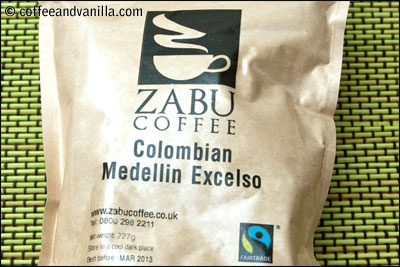 Colombian Medellin Excelso coffee is grown on the foothills of the Andes and is Fairtrade Certified.
Now this is my favourite morning coffee, very flavoursome with nutty accents but mild and smooth at the same time… great to start the day.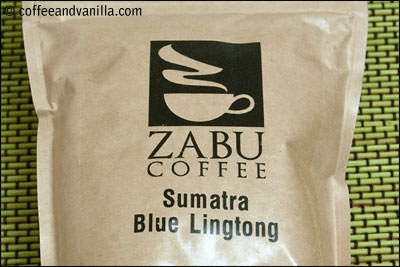 Sumatra Blue Lingtong coffee is grown by the PPKGO coffee cooperative – collection of thousands of individual farmers spread across the North of Sumatra in the Taekngon region of the Aceh province.
It is light, delectable coffee with lots of fruity flavours.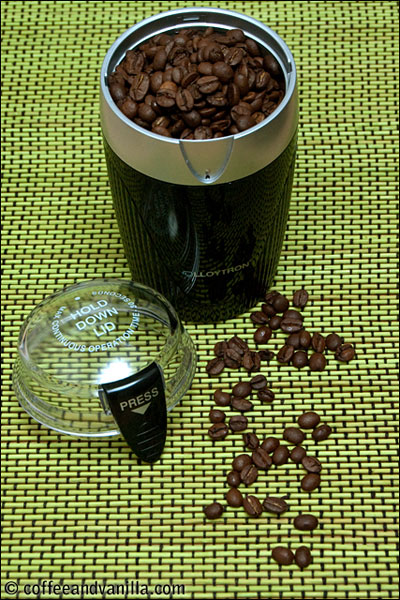 Don't miss the chance, ZABU has now introductory offer on their site and for £12.97 including delivery new customers receive:
1 bag House Blend coffee beans
1 bag Colombian Medellin Excelso coffee beans
1 free coffee grinder
And if you like them you will be able to continue receiving  two bags of freshly roasted coffee beans (House Blend + Coffee of the Month) every month for the same £12.97, which is not bad. If you drink coffee regularly you likely spend about the same amount anyway and this way you don't have to compromise on quality coffee, you have a chance to try best coffees from all over the World and get a free grinder that you can use for spices as well. The only risk you take is that after trying real coffee beans you may not like drinking instant coffee ever again.
With thanks to Elaine from ZABU Coffee and Emily from Midas Public Relations for complementary samples.