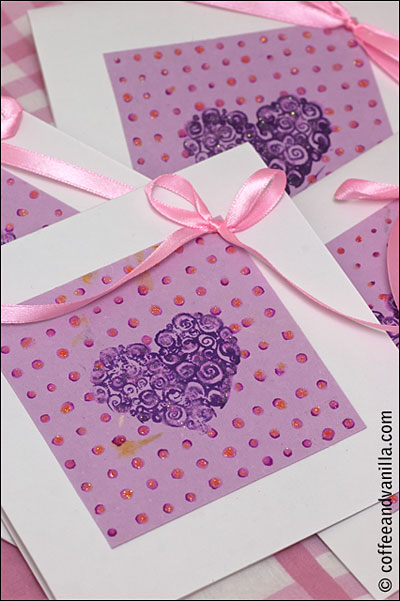 MATERIALS
square pieces of handmade Mulberry paper
pieces of ribbon tied into bows
square blank cards with envelopes
glitter glues, we used orange and pink
colourful ink (we used purple bingo dabber instead)
marker – same colour as the ink
craft glue
EQUIPMENT
large stamp for the front of the card
little stamp for the back of the card – optional
METHOD
Stamp square piece of Mulberry paper with bigger stamp, we used swirly heart design.
With a marker make dots all over the paper, try to make it in some kind of pattern.
Once ink is dry cover some parts of the design with glitter glue in similar colour to your ink.
Using different colour of the glitter glue cover the dots and leave the paper aside until dry, best overnight.
Optionally stamp also back of the blank card with the little stamp, ours was saying "especially for you" and top it with a little bit of glitter as well, leave to dry.
Once all glitter is dry stick with glue Mulberry paper squares onto front of blank cards.
Connect also bows with craft glue and leave aside again until completely dry, another night perhaps.
Repeat the same steps with all the cards.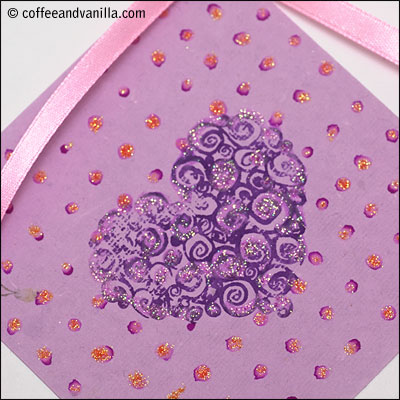 NOTES
We made those cards as birthday party invitations when my daughter was turning 6, last summer…
To make them we used handmade Mulberry paper which has added some natural materials for texture.