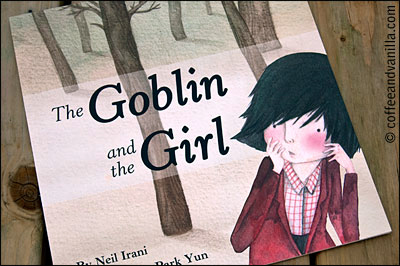 "The Goblin and the Girl" written by Neil Irani, is another great book we have received to review from Maverick, available also through my Amazon.co.uk and Amazon.com stores.
First, a little bit about the author – Neil who writes stories for children for over 8 years now. His previous publications were mainly written for boys so once his daughter was born he decided to write books for girls as well. "The Goblin and the Girl" was created out of frustration with amount of meaningless books for children on the market.
The book is beautifully illustrated by Park Yun whose drawing style is very original, seems to me like mixture of pencil, crayons and watercolours but I can be wrong.
The fonts are big, spaced, easy enough to read by smaller children.
The story itself is about little girl who felt ugly like a goblin and hid from the World and people under her huge hat.
"When the girl looked in the mirror she
saw herself as a goblin.
She did not want anyone to see her because
of the way she looked.
But one rainy day everything changed…"
I'm not sure only about the group age this book is targeted at… my daughter who is 6 and rather smart and sensitive did not understand this it fully but she became aware of the problem some other children around her may have.
I'm certain that if I read it to her in a year or two she will enjoy this book at completely different level.
"The Goblin and The Girl"
AUTHOR: Neil Irani
ILLUSTRATOR: Park Yun
PUBLISHER: Maverick Arts Publishing
FORMAT: Paperback
SIZE: 260 x 256 x 6 mm
PAGES: 32
LANGUAGE: English
ISBN: 978-1848860780
PUBLISHED: 17th February 2012
With  thanks to Maverick Children's Books for complementary copy of the book.
You can find parts of this article between my other reviews on Amazon website.