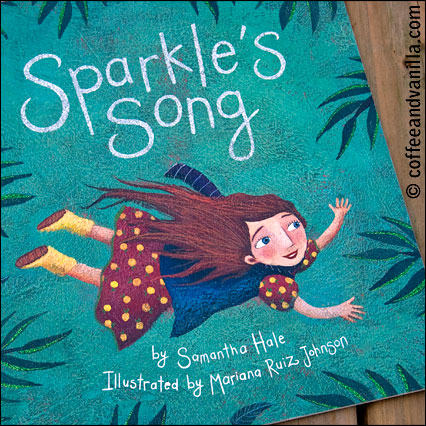 Over the Easter holidays we were enjoying reading some new children's books from Maverick, one of them was "Sparkle's Songs" by Samantha Hale, available through their website or from Amazon.co.uk and Amazon.com stores.
"Sparkle's Song" has adorable, sparkly cover and very original, awesome, textured like old cracked oil paint illustrations by Mariana Ruiz Johnson.
The book tells a story of a little girl who lost her mum and dad in a car accident and was forced to move in with her mother's sister far away from her school, friends and everything she knew… She used to take plenty of pleasure in music but aunt Millicent did not allow any noises in the house so Sparkle had to be going outside and fantasize to comfort herself. In her imagination instruments and a little yellow bird were talking to her, trees were dancing and wind was singing songs . Although the story have sad beginning it ends with happy accent when Sparkle helps her auntie change her heart and since then they both take joy in playing piano and singing together like in old good times when Sparkle's parents were still alive.
I wasn't sure if the book is not too advanced but to my surprise my 6 year old daughter enjoyed it a lot, she said that the book has "imaginative story with talking instruments" and wants to give it 5 out 0f 5 stars ;)
Highly recommended book for any little girl who likes to read interesting stories.
"Sparkle's Song"
AUTHOR: Samantha Hale
ILLUSTRATOR: Mariana Ruiz Johnson
PUBLISHER: Maverick Arts Publishing Ltd
FORMAT: Paperback
SIZE: 264 x 259 x 6 mm
PAGES: 32
LANGUAGE: English
ISBN: 978-1-84886-080-3
PUBLISHED: 17th February 2012
With  thanks to Maverick Children's Books for complementary copy of the book.
You can find parts of this article between my other reviews on Amazon website.