This is my entry for Kalyn's "Weekend Herb Blogging", hosted this week by Anna from Morsels & Musings.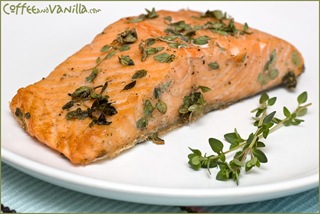 Baked Salmon with Seaweed Salt and Lemon Thyme
3-4 salmon steaks (about 600g)
1½ tsp seaweed salt (I used Tasmanian Jade Salt with Wakame Seaweed)
about 10g of fresh lemon thyme
rainbow peppercorns
Separate thyme leaves from the stems.
Rub seaweed salt and lemon thyme into salmon, sprinkle with freshly ground rainbow pepper.
Then place salmon in non-stick baking dish.
Bake in 180°C (356°F) for about 20 minutes.
Make 3-4 servings.
* And here is some info on Lemon Thyme: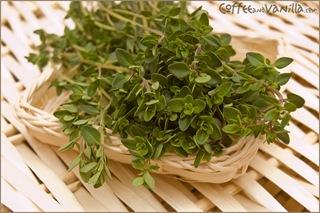 Lemon Thyme looks like English Thyme and grows like English Thyme but that is where the similarity stops.
Lemon Thyme definitely smells like lemon and tastes like lemon. It can be used in any recipe calling for lemon juice, lemon zest or lemon flavouring.
Lemon Thyme added to marinade is great with fish or chicken.
Information source: Mountain Valley Growers.