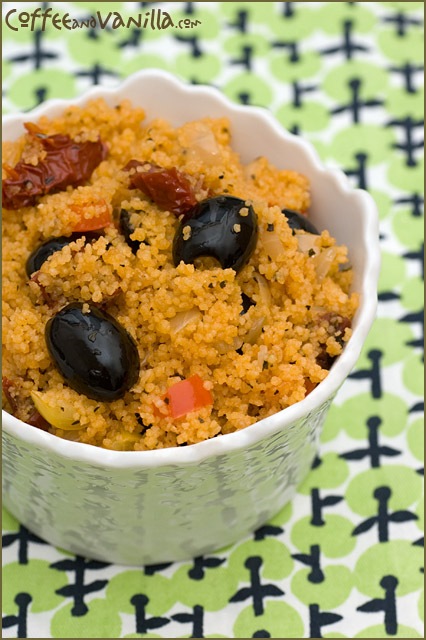 INGREDIENTS
500g couscous
hot water
1½ tbs vegetable stock powder
280g jar of sundried tomatoes in oil (oil saved, tomatoes chopped)
1 tbs of dried basil
3-5 tbs sundried tomato paste or sundried tomato pesto (about 100g)
2 medium onions (finely chopped)
1 tbs garlic granules
1 large yellow, red or half red, half yellow sweet bell peppers (chopped) – optional
150g pitted black olives (cut in halves)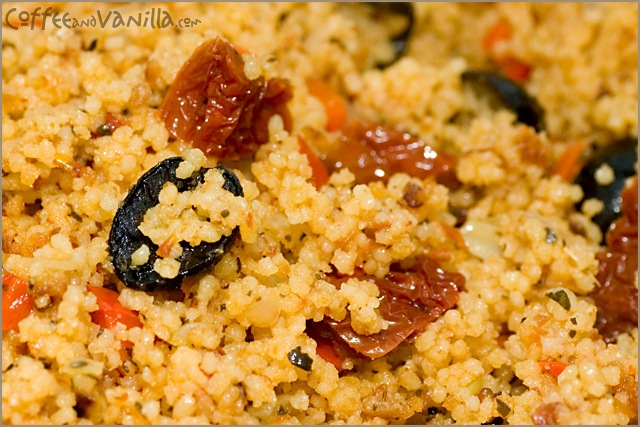 METHOD
Fry onions in large frying pan or wok on half of the oil from sundried tomatoes till soft.
Reduce the fire, add basil, vegetable stock powder, sundried tomato paste or pesto, peppers, garlic granules and couscous and fry for a while longer, add gradually hot water stirring constantly.
Towards the end, when couscous soaked enough water and is ready, stir in sundried tomatoes, olives a some more oil from sundried tomatoes if necessary.
Serve hot or cold as a side dish or as a snack.
Serves 6 people.