This is very quick and easy to prepare soup that can be made within minutes from freezer or cupboard ingredients.
Yesterday my younger daughter asked for our regular dumpling soup (with Caribbean style dumplings) but I did not have all of the ingredients plus didn't really feel like shaping the dumplings so I made this vegetarian soup with Polish egg dumplings but being lazy instead of boiling them separate I just dropped them into the soup which turned out to be great idea. My girls loved this soup and the little one even asked for extra portion.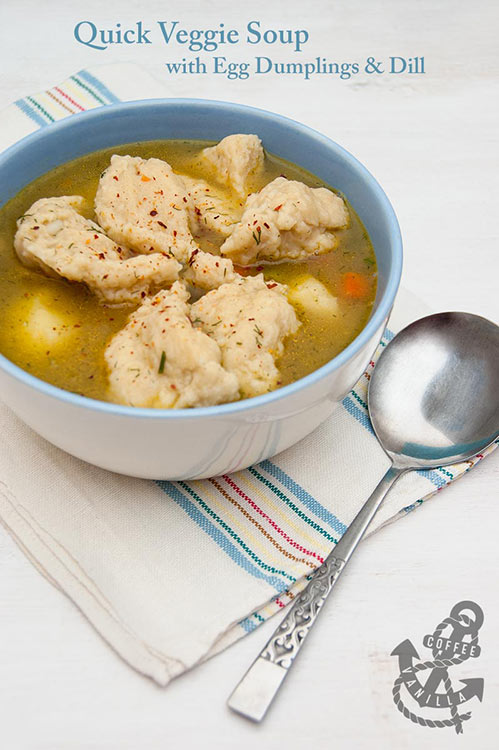 INGREDIENTS
4 l of boiling water
4 large vegetable cubes (10 g each)
500 g mixed frozen veggies (with carrots, peas, broccoli etc.)
2 large potatoes / about 250 g (peeled and cut into chunky pieces)
4 tbs olive oil
generous handful of fresh chopped dill or some frozen dill
chilli flakes
sea salt – to taste
for the egg dumplings
3 tbs plain flour
3 eggs
¾ cup milk
METHOD
Place all of the ingredients, except for dill, salt and chilli flakes, in large pot and cook until potatoes are ready.
Stir in also the dill and season to taste with salt, if necessary.
Use slotted spoon to share veggies to deep plates / bowls leaving all liquid still in the pot.
In a bowl mix eggs with milk, add also flour and stir until well combined. The mixture should be sticky and hard to stir.
Use table spoon to place portions of the dough in the soup, cook for about 10 minutes longer or until dumplings are ready, we like them a bit al dente.
Top the veggies with soup and the dumplings, sprinkle with chilli flakes and enjoy.
Serves 4 – 5 people.
NOTES
For children skip the chilli flakes.
For non vegetarian option add some cubed chicken breast together with all ingredients.
If you are looking for more vegetarian recipes, check out this Scottish Tattie, Neep and Carrot Soup by Jac, Rustic Chickpea Soup by Mabintu, Tomato and Basil Soup by Dannii, Mexican (Very) Vegetable and Bean Soup with Jalapeño-Herb Topping by Kellie or Quick Courgette & Blue Cheese Soup by Kavey.
I'm submitting this recipe to the Simply Eggcellent hosted by Dominic from Belleau Kitchen,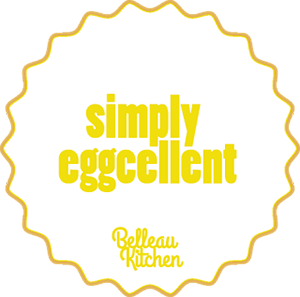 No Croutons Required – Soup and Salad Challenge co-hosted by Jac of Tinned Tomatoes and Lisa from Lisa's Kitchen…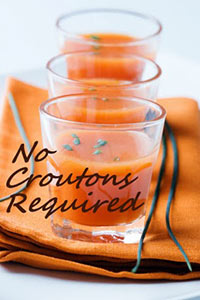 and to Camilla's & Helen's Credit Crunch Munch hosted this month by Camilla – October – Credit Crunch Munch.