This is very easy yet extremely delicious cross between Rosół z Kury – Polish Chicken Soup and Dominican Chicken, Lentils & Dumplings Soup that we often prepare in our house, especially on gloomy winter days like today.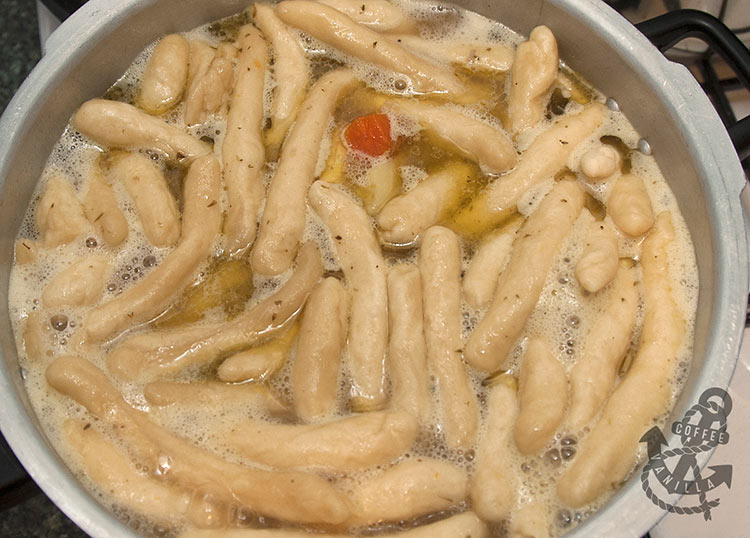 INGREDIENTS
8 – 10 chicken legs, tights, big packet of wings or the whole chicken (quartered)
2 – 3 tbs olive oil
500 g of carrots (peeled and cut into coarse chunks)
500 g potatoes (peeled and cut into coarse chunks)
2 tbs of dried thyme or sprigs of fresh one
couple of garlic cloves or garlic granules
6 Maggi cubes (or other stock cubes)
about 4 l of boiling water
1 Caribbean chicken soup in a packet – optional
coconut cream or some coconut milk powder – optional
some chilli flakes – optional
sea salt – to taste
handful of spring onions or 1 large leek (chopped finely)
for the dumplings
3 cups of plain flour
about 1½ cup of lukewarm water
2 tsp baking powder
1 tsp salt
EQUIPMENT
pressure cooker pot or large 5.5 l stock pot
bowl to mix ingredients for dumplings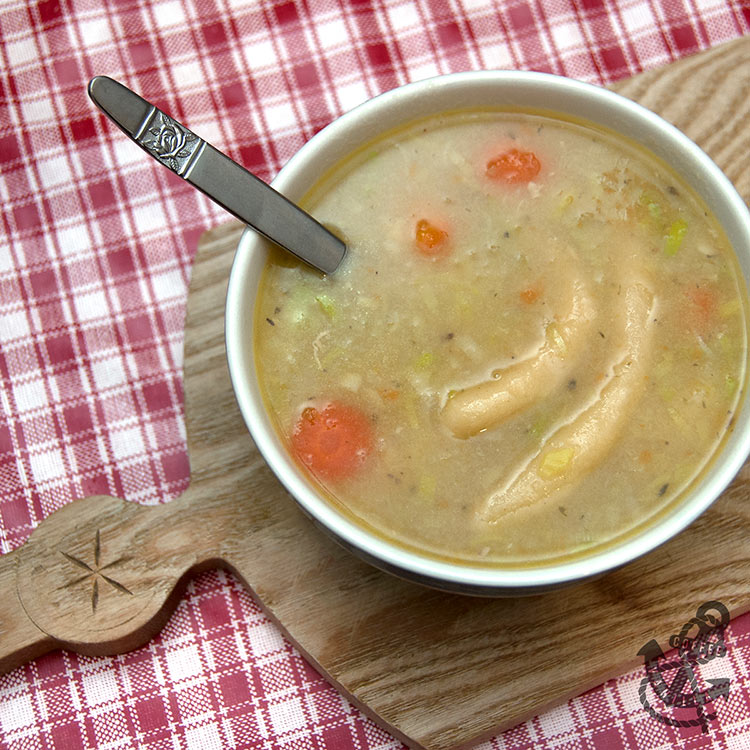 METHOD
Place chicken on the bottom of the pot, add olive oil and heat for a while.
Then add carrots, potatoes, garlic, thyme, Maggi cubes and about 2 l of boiling water.
Close the pressure cooker and cook for 7 minutes. If you are using regular pot cook until both chicken and vegetables are cooked through and soft.
In meantime prepare the dumplings combining flour, baking powder, salt and water. Knead until the dough is smooth. Roll into oblong shapes and put aside.
Once the soup is cooked add the rest of the water (making sure to leave enough space for dumplings), coconut cream / milk and chicken soup from the packet, if using.
Season to taste with salt and chilli flakes.
Drop dumplings into the soup, one at a time to make sure they go to the bottom of the pot.
Cook for couple of minutes longer until dumplings are cooked.
Add chopped leek or spring onions and serve the soup to the bowls.
Makes about 8 – 10 servings of the soup.
NOTES
The soup stores quite good in the fridge for next day lunch or even dinner.