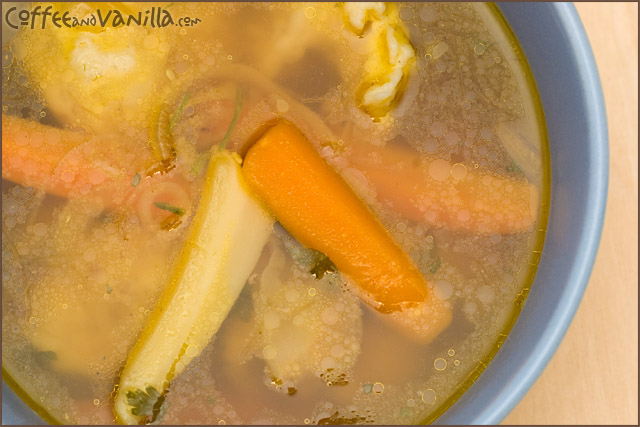 INGREDIENTS
1 whole chicken (separated) or plenty of chicken bones
¼ small celeriac – about 100g (peeled and sliced coarsely)
1 large parsnip (peeled and sliced or cut lengthwise)
2-3 carrots (peeled and sliced or cut lengthwise)
1 small leek (cut in half)
2 onions (sliced)
1 tbs oil (I used Carotino) for frying onions
3 litres of water
1½ tbs sea salt
2 pinches ground black pepper
2 tbs fresh / frozen parsley
METHOD
If chicken is frozen defrost in the fridge day before.
Bring water to boil in a large pot, add chicken or bones and boil removing any foam that is creating on the surface, reduce fire and cook some more. When chicken is almost ready add vegetables (except onions) and seasonings (except oil and parsley).
In meantime fry onions on oil till golden brown, leave aside.
When chicken and vegetables are ready take out chicken / bones from the soup and leave aside. Remove also leek and celeriac and throw away. Add onion and parsley.
Serve soup to the plates over "Kluski Kladzione / Polish Dumplings", farfalline pasta or noodles and optionally with chicken from the soup. You can also serve this soup with freshly prepared croûtons.
Serve 4-5 people.
When I buy chicken I use legs, breasts, wings and I freeze the rest till I collect enough bones for the soup, bones from about 2-4 chickens are needed for this soup. You may also use about 1.5 kg chicken wings.
You may use some chicken stock cubes (about 3-4) instead of salt for stronger flavour.