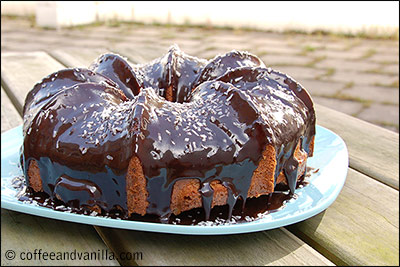 INGREDIENTS
for the cake
2½ cups of plain flour
1½ cups caster sugar
250g unsalted butter (softened)
6 eggs (7-8 if small)
1 cup of walnuts (broken into pieces)
1 cup dessicated coconut
2 cups coarsely grated carrots
1½ tbs freshly ground cinnamon
¼ tsp freshly grated nutmeg – optional
1 tbs baking powder
for the coconut & chocolate icing

125 g of unsalted butter or margarine / half a bar
3 tbs unsweetened cocoa powder
5 tbs golden caster sugar
1 tbs or a little bit more milk or water
handful / about ½ cup of dessicated coconut
EQUIPMENT
hand mixer – optional
large bundt baking pan (I used silicone one placed on baking tray)
whisk to beat the egg whites (I used manual one)
two mixing bowls, small for egg whites and bigger one for the rest of the ingredients
wooden skewer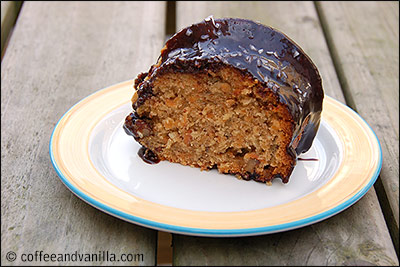 METHOD
Preheat the oven to 180°C (356°F).
Separate egg yolks from the whites.
In a large mixing bowl combine sugar, egg yolks and butter and mix until well combined.
In smaller bowl whisk the egg whites until stiff and leave aside.
Gradually add to the large mixing bowl flour mixed with baking powder, cinnamon, nutmeg, carrot, coconut, walnuts and egg whites.
Transfer cake mixture into baking pan.
Bake for about 50 minutes, reducing temperature after 25 minutes to about 160°C (320°F), check with the skewer if the cake is baked through and dry inside.
Once the cake is ready remove it from the mould and start preparing the icing.
Melt butter in a small saucepan, add sugar, cocoa powder and milk and continue heating and stirring until the glaze have smooth texture.
Remove from fire and continue stirring to cool down the icing a bit until it is starting to have quite thick consistence.
Pour icing over the cake and sprinkle with shredded coconut.
If you can resist, let it cool down completely before sharing.
Make about 10-16 pieces of cake.

I made this cake today with my husband for his brother's birthday.
Happy Birthday Matthias!!!
NOTES
To make carrot muffins skip the topping and reduce baking time to about 25 minutes.
Similar recipes from other blogs:
Michelle from Greedy Gourmet made carrot cupcakes with vanilla butter cream.
Jeanne from Cooksister! used walnuts in her low-fat banana muffins.
Kalyn from Kalyn's Kitchen made also spiced cinnamon cake but with apples and pears not carrots.