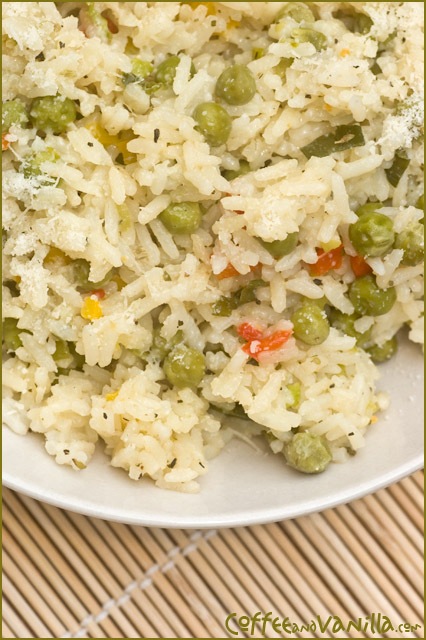 INGREDIENTS
2½ cups easy cook rice
4½ cups water
1½ cups frozen garden/green peas
1½ tbs Vegeta (vegetable seasoning)
½ large sweet red bell pepper (cubed finely)
½ large sweet yellow bell pepper (cubed finely)
2-3 spring onions (chopped)
1½ tsp dried oregano
1½ tsp dried basil
1½ tsp garlic granules
25g unsalted butter
parmesan cheese to sprinkle
rainbow peppercorns
METHOD
Place rice, water, peas, oregano, basil and garlic in a pot over medium fire, cook covered till rice and peas are ready.
Add butter, rest of the veggies and stir till all butter melt.
Serve to the plates, sprinkle with parmesan and freshly ground pepper.
Serve 4-8 people as a main or a side dish.