[inspired by Raffaello sweets from Ferrero Rocher]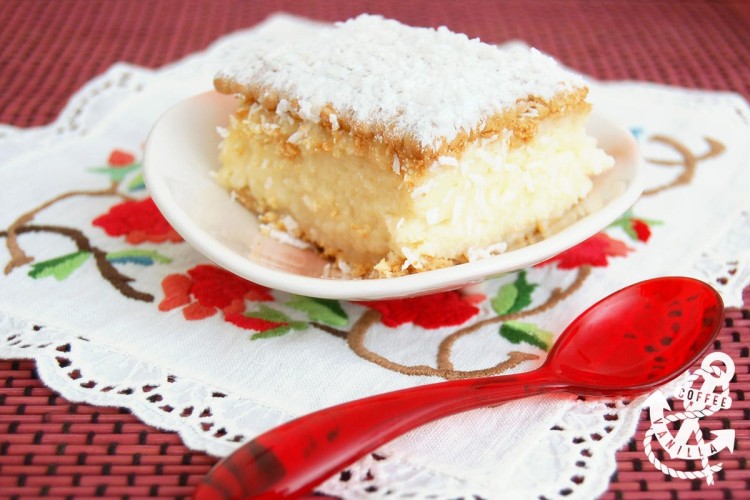 INGREDIENTS
6 cups / 1½ litre of whole milk
125 g / ½ bar of unsalted butter
2 cups caster sugar
5 packets of vanilla sugar (5 g each)
4 – 6 whole eggs (4 large, 6 if small)
4 – 6 egg yolks
8 tbs plain flour
8 tbs potato flour
about 50 petit beurre biscuits for the base (2 large packets)
170 g desiccated coconut
1 cup of coconut milk powder
170 g blanched almonds
icing sugar – to decorate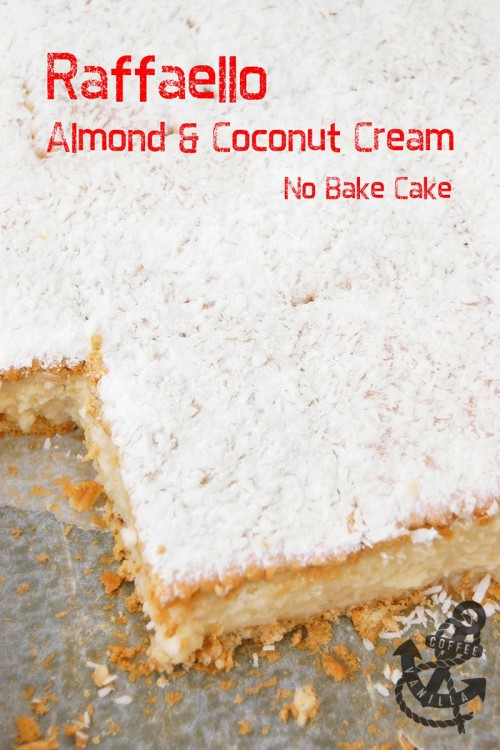 EQUIPMENT
1 large baking tray
large piece of baking paper, to cover the bottom of the tray and the sides
manual whisk
large jug or bowl
large pot to prepare cream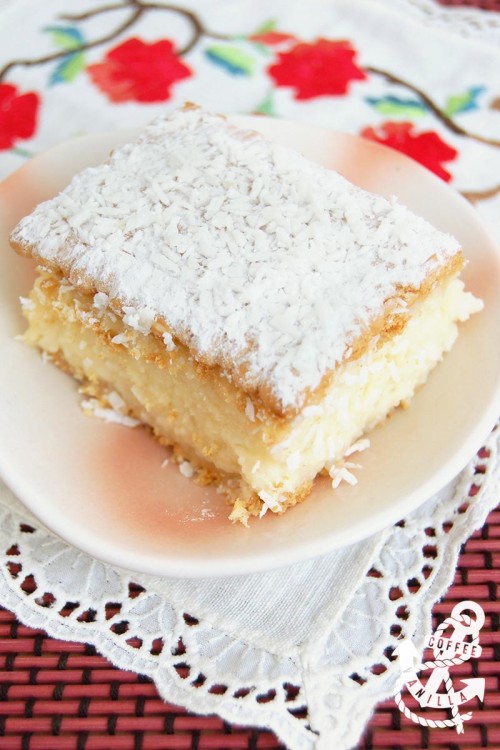 METHOD
Line the tray with baking paper and as many petit beurre biscuits as you can. I managed to fit 5 rows of 5, 25 all together on the bottom of the tray.
To prepare the cream boil 4 cups of the milk with vanilla & caster sugars, coconut milk powder and butter.
In a jug combine eggs, egg yolks, flour and left over 2 cups of milk whisking everything until well combined.
Gradually fold in egg mixture into pot with milk, continue boiling and stirring with a whisk until cream is smooth and starting to get thick.
Stir in also desiccated coconut (saving about two handfuls for the topping) and mix well.
Spoon out the cream onto the biscuit base, top with almonds.
Cover everything with another layer of 25 biscuits.
Sprinkle the top with saved coconut and icing sugar.
Place in the fridge for couple of hours or even overnight.
Slice with a knife following the lines in between the biscuits.
Serve with some unsweetened tea or coffee on a side.
Makes about 25 small portions.
NOTES
The cream for this cake is based on Napoleonka / Polish Custard Cream Pie.
In Poland different variations of this recipe are popular, some of them are using flaked almonds instead of the whole ones.
Looking for more coconut dessert ideas? Then take a look at Jeanne's South African coconut tart or some recipes I have prepared previously: Spiced Carrot Cake with Coconut & Chocolate Icing, Coconut & Vanilla Carrot Cake with Strawberry Icing or Fruity Rice with Coconut Milk and Almond Flakes.
DISCLOSURE: This post contain some affiliated links.