[inspired by Crema pizza from Lupa at Crouch End, London]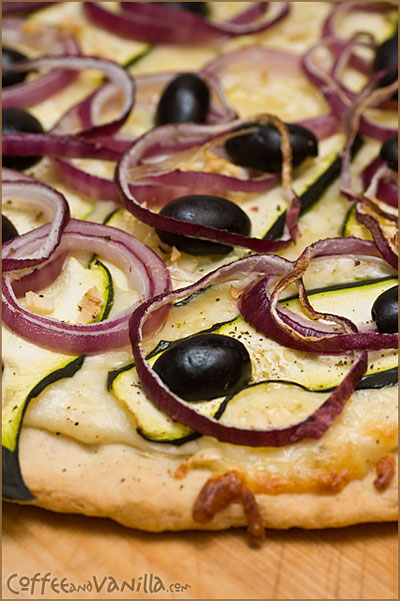 INGREDIENTS
for dough
445ml warm water
1½ tbs dried yeast
1½ tsp sugar
4¾ cups plain flour
½ tsp sea salt
¼ cup olive oil
some more olive oil to brush baking trays
for topping
400g grated Mozzarella and Mature Cheddar cheese
3 medium zucchinis / courgettes (halved and then sliced lengthwise)
6 large garlic cloves (chopped finely)
3 medium red onions (sliced)
rainbow peppercorns
6 handfuls of black olives (pitted and halved)

for béchamel sauce
1 cup plain flour
100g unsalted butter
5 cups milk
1 tsp sea salt or to taste
black peppercorns
EQUIPMENT
3 baking trays
silicone brush
hand blender – optional
3 oven racks

METHOD
Warm up oven to 150°C (302°F).
Place yeast and sugar in warm water and keep aside for 10-15 minutes.
Then mix it with flour, salt and oil till dough is smooth and not sticking to hands any more. Divide dough into 5-6 portions, cover with tea towel and keep in a warm, quiet place for couple of minutes.
In meantime prepare bechamel sauce: melt butter and gradually add flour and milk to the pot, season with salt and freshly ground pepper. If by any chance it won't come out smooth, do not worry, just blend it with hand blender and heat again for a while.
After about 5 minutes spread the dough on brushed with oil baking trays, I made my pizzas oval shape so they were fitting better, 2 on each baking tray, then place them in oven for 15 minutes.
When pizza bases are ready, remove them from the oven. Now it is time to grill courgettes on the rack, it should take couple of minutes, if you have such an option you can turn on both oven and grill on.
When courgettes are ready, spread prepared bechamel on pizza bases, then top them with garlic, grated cheese, red onions, courgettes and olives and place back in the oven, this time without baking trays, just on the racks, make sure to turn off the grill option.
Bake for about 30 more minutes.
Share to the plates, season with freshly ground pepper.
Makes 5-6 pizzas.