[inspired by Funghi pizza from Lupa at Crouch End, London]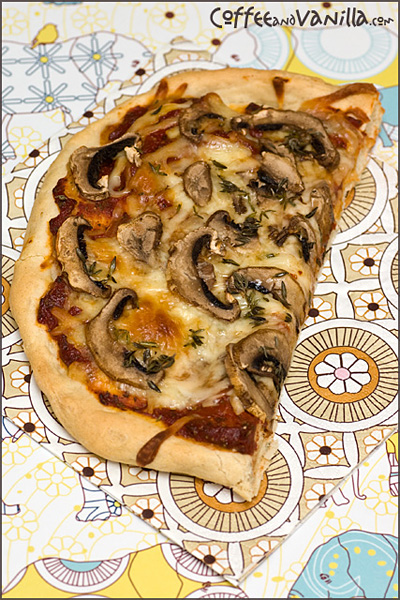 INGREDIENTS
for dough
445ml warm water
1½ tbs dried yeast
1½ tsp sugar
4¾ cups plain flour
½ tsp sea salt
¼ cup olive oil
some more olive oil to brush baking trays
for topping
400g grated Mozzarella and Mature Cheddar cheese
25 quite big white button and chestnut or mixture of any other mushrooms (sliced)
handful fresh thyme leaves (stems removed)
rainbow peppercorns

for tomato sauce
150g concentrated tomato paste / puree
1 tsp dried oregano
1 tsp dried basil
1½ tsp vegetable stock powder
water
EQUIPMENT
3 baking trays
silicone brush
3 oven racks

METHOD
Warm up oven to 150°C (302°F).
Place yeast and sugar in warm water and keep aside for 10-15 minutes.
Then mix it with flour, salt and oil till dough is smooth and not sticking to hands any more. Divide dough into 5-6 portions, cover with tea towel and keep in a warm, quiet place for couple of minutes.
In meantime prepare tomato sauce combining all ingredients with enough water to achieve right consistence.
After about 5 minutes spread the dough on brushed with oil baking trays, I made my pizzas oval shape so they were fitting better, 2 on each baking tray, then place them in oven for 15 minutes.
When pizza bases are ready, remove them from the oven. Now it is time to grill mushrooms on the rack, it should take couple of minutes, if you have such an option you can turn on both oven and grill on.
When mushrooms are ready, spread prepared tomato sauce on pizza bases, then top them with mushrooms, sprinkle with lots of thyme and place back in the oven, this time without baking trays, just on the racks, make sure to turn off the grill option.
Bake for about 30 more minutes.
Share to the plates, season with freshly ground pepper.
Makes 5-6 pizzas.