This is very simple yet quite useful recipe for delicious, fragrant home-made naan bread that can be done within minutes and will go very well with all kinds of curries, soups and stews.
We served it with Perfect Chicken Curry with Coconut Milk.
INGREDIENTS
4 cups plain flour / 400 g
1 tbs dried active yeast
2 tsp golden caster sugar
6 tbs lukewarm milk
2 tbs fresh thyme leaves (stems removed)
3 – 4 garlic cloves (minced) or 1 tbs garlic granules
½ tsp salt
1 tsp baking powder
2 tbs olive oil
4 tbs natural yogurt
some more flour for working surface
EQUIPMENT
2 – 3 non-stick baking trays or 6 sandwich trays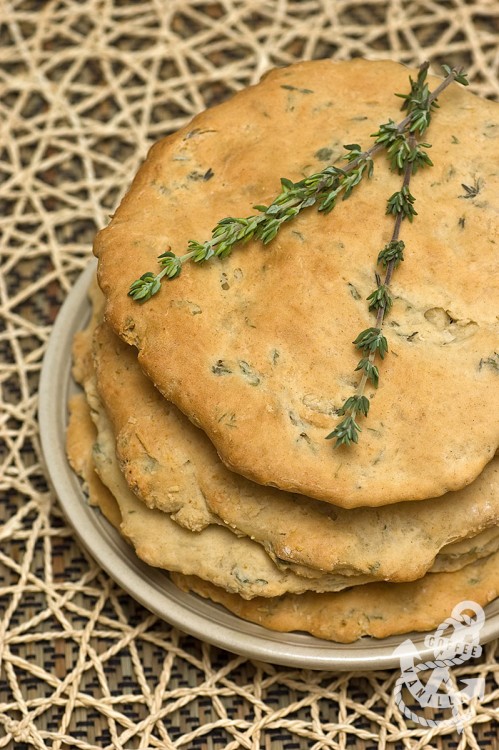 METHOD
In a small bowl or mug combine milk with sugar and active yeast, leave in warm place for about 10 minutes or according to the packet instructions, until covered with froth.
Meanwhile, mix together flour, thyme, baking powder, garlic and mix well, add olive oil, yogurt and yeast mixture when is ready. Add water if necessary.
Knead the dough for about 10 minutes, then cover with tea towel and let it grow in a warm place for about 15 minutes.
Preheat oven to 140°C (275°F).
When the dough is risen, divide it with floured hands into 6 portions, flatten in your hands until about ½ – 1 cm thick, place on baking tray or sandwich tray.
Repeat the same with other dough portions.
Place in the oven and bake for about 15 minutes.
Serve immediately with your favourite curry.
Makes 6 naan breads.
NOTES
For more flat bread ideas check out Buntu's Quick Yoghurt Flatbread or Naan Bread with Garlic & Coriander we made some time ago.
You may also like our other bakes with thyme: Herbed Croutons or Savoury Biscuits with Rosemary, Thyme & Sage.
More side dishes.
Soup and stew recipe ideas.
Warming up autumn and winter recipes.
Other Asian dishes.