[adapted from recipe by Manju Malhi on BBC Food]
INGREDIENTS
4 cups plain flour – 400 g
1 tbs dried active yeast
2 tsp golden caster sugar
6 tbs lukewarm milk
2 handfuls freshly chopped coriander
3 – 4 garlic cloves (minced) or 1 tbs garlic granules
½ tsp salt
1 tsp baking powder
2 tbs olive oil
4 tbs natural yogurt
some more flour for working surface
EQUIPMENT
2 – 3 non-stick baking trays or 6 sandwich trays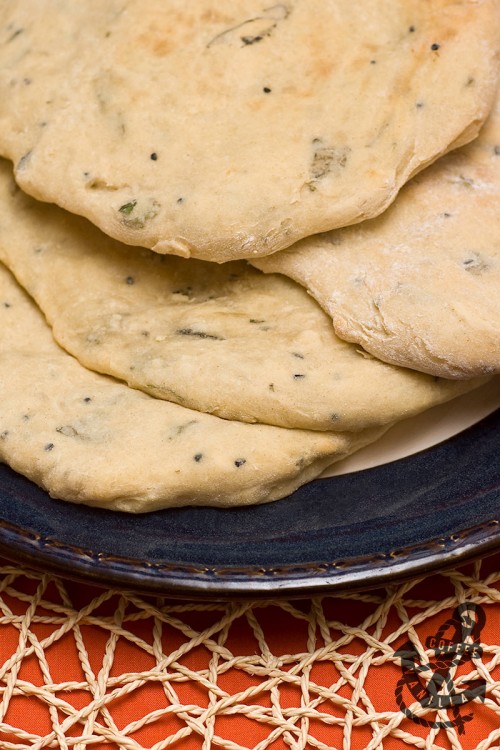 METHOD
In a small bowl or mug combine milk with sugar and active yeast, leave in warm place for about 10 minutes or according to the packet instructions, until covered with froth.
Meanwhile, mix together flour, nigella seeds, baking powder, coriander, garlic and mix well, add olive oil, yogurt and yeast mixture when is ready. Add some water if needed.
Knead the dough for about 10 minutes, then cover with tea towel and let it grow in a warm place for about 15 minutes.
Preheat oven to 140°C (275°F).
When the dough is risen, divide it with floured hands into 6 portions, flatten in your hands until about ½-1 cm thick, place on baking tray or sandwich tray.
Repeat the same with other dough portions.
Place in the oven and bake for about 15 minutes.
Serve immediately with your favourite curry.
Makes 6 naan breads.
NOTES
We served it with Perfect Chicken Curry with Coconut Milk and mango salad on a side.
If you are looking for more naan bread recipes, take a look at this Thyme & Garlic Naan Bread.