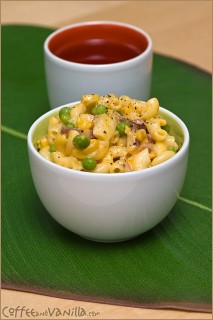 INGREDIENTS
500g macaroni pasta
3 fresh sweet corns
1 cup frozen or fresh petits pois / garden peas
few tbs of water to steam peas
2-3 red onions – 200g (cubed)
250g Red Leicester cheese (grated)
6 tbs – 150g cream cheese
½ cup milk
black peppercorns
sea salt
EQUIPMENT
roasting tray
microwave dish with lid to steam peas or small pot
large non-stick pot to cook macaroni
METHOD
Place corn on a tray and roast in 180°C (356°F) until soft and starting to get brown. Let them cool down a little bit and using sharp knife cut of kernels from the cob. Leave aside.
Steam in microwave peas with few tbs of water, they should be ready within 5 minutes. You can also place them in a small pot with a little bit of water and cook covered until soft.
In meantime cook macaroni pasta in salted boiling water, until soft, drain but keep in the same pot.
Reduce fire, stir in peas, corn, onion, Red Leicester, cream cheese and milk. Season with salt and freshly ground pepper to taste, stirring constantly. Remove from fire and serve.
Serve 6 people.