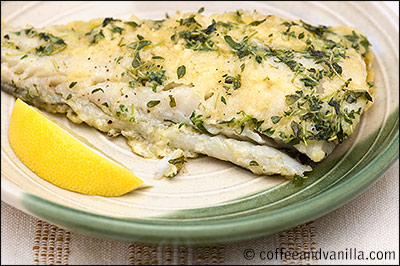 INGREDIENTS
600g fresh Coley or other white fish fillets (cut in halves)
2 eggs (beaten slightly)
½ cup plain flour
about 2 tsp of Adobo seasoning or other vegetable salt
black peppercorns
3 tbs fresh / frozen chopped lemon thyme
6 tbs olive oil, 6 tbs unsalted butter or half half
½ lemon cut into 4 wedges
METHOD
In two separate plates prepare eggs and flour.
Deep each fillet in egg, then flour and place on large frying pan with half of olive oil or butter.
Make sure that oil / butter is hot before placing the fish.
Repeat the same with all fillets.
Sprinkle everything with lemon thyme, freshly ground pepper and Adobo.
Fry for couple of minutes, then add the rest of the oil, turn fish using spatula and fry for couple more minutes on the other side.
Serve with lemon wedges on a side, couscous or pasta and some fresh salad.
Serves 4 people.
Looking for more pan-fried fish ideas?
Michelle made pan-fried sea bass in garlic & lemon butter sauce.
Johnny prepared pan roasted salmon with lemon & coriander mayonnaise.