I must admit that I use ready fajita seasoning mixes way too often but this time I have run out what forced me to make my own for the fajita pasta bake which I will post next, stay tuned…
INGREDIENTS
2 tbs corn starch or other starch (I used rice flour here)
2 tbs chilli powder
2 tsp Spanish smoked bitter-sweet paprika or plain paprika powder + some hickory smoke powder
2 tsp ground cumin
1 tsp garlic powder
1 tsp onion powder
1 tsp dried oregano
1 tsp sugar
1 tsp sea salt
1 large vegetable cube (crushed)
Cayenne pepper or chilli flakes (to taste)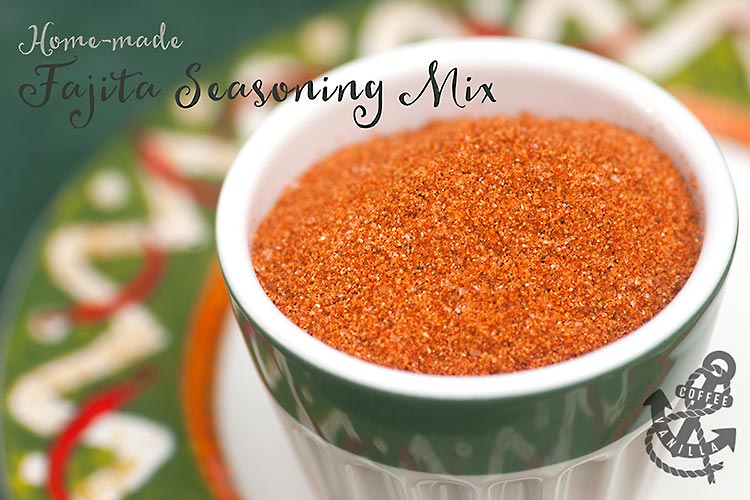 METHOD
Combine all ingredients, mix well.
Move to air tight container to store until ready to use.
Makes about 7 tbs of seasoning. (Allow 2 – 3 tbs of this seasoning per 500 g chicken for fajitas.)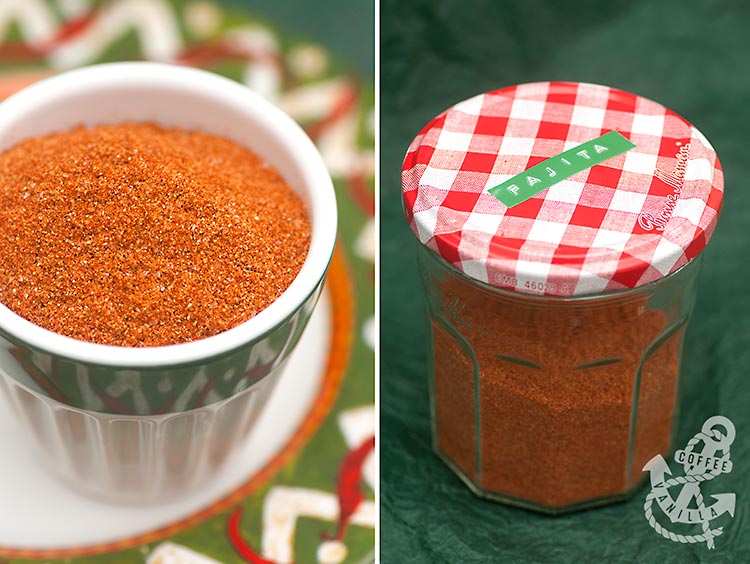 NOTES
I forgot  about oregano and took pictures before adding it, so don't let it confuse you, the seasoning should have bits and pieces of dry leaves in it.
Corn starch or the rice starch I have used can be omitted, if you don't have any on hand, seasoning will be then much more concentrated and a bit harder to mix but it will be still the same tasty.
I usually triple this recipe to get full jar, that previously contained 370 g of Bonne Maman jam, of the seasoning.
Recipes using fajita seasoning: Extremely Quick Coconut & Fajita Chicken for Rice or Pasta, Vegetarian Smoky Fajita Pasta Bake with Bell Peppers and Spicy Smoked Fajitas with Red Kidney Beans and Tomato.
Pictured neat label on fajita seasoning jar has been made using my good old Omega label maker.
Looking for more home-made spice mix ideas? Then try Mabintu' Pumpkin Pie Spice or Herbal Pepper Mix I made while ago.
DISCLOSURE: This post contain some affiliated links.