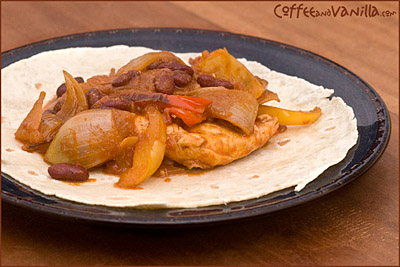 INGREDIENTS
8 ready tortilla wraps
600g chicken breasts (cut into straps)
3 large sweet bell peppers – red, yellow or orange and green (sliced)
2 medium onions (cut into wedges)
1 x 400g tin of red kidney beans (drained) or some re-fried beans – optional
½ x 400g tin of chopped tomatoes or some tomato salsa – optional
1 x 200g tin of sweet corn – optional
avocado, garlic, sea salt for guacamole (mashed together) – optional
grated cheese – optional
2-3 tbs oil (I used grape seed oil)
1 package of fajita spice mix – about 3 tbs or some home-made fajita seasoning
METHOD
Cut chicken breast into strips and fry together with onions on oil for a while, until browned. Then add peppers and fry for a while longer. Stir in fajita spice mix and cook only minute or two longer. At this point you can also add tinned tomato if using and red kidney beans beans, but you can also leave them to serve on a side.
Warm tortilla wraps in the microwave for about 40 seconds.
Serve wraps separate from the chicken with all other ingredients (re-fried beans, tomato salsa, sweet corn, guacamole, grated cheese) on a side and let everyone make their own fajitas.
Serve 4 people.
Some fajita mixes have smoky flavour, some are less or completely not smoky. You can always add some extra smoked paprika powder for this smoky taste.