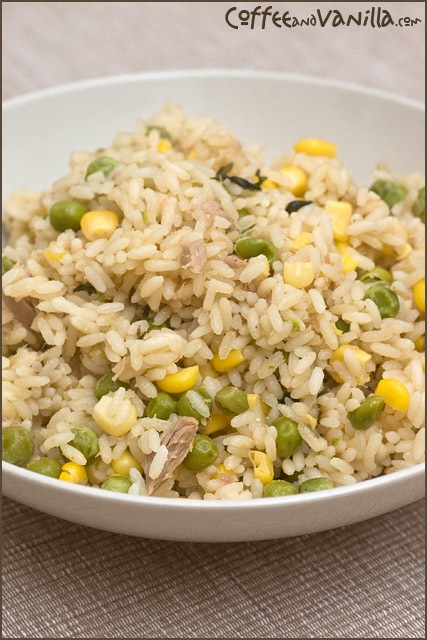 3 cups easy cook rice
5 cups water
3 tins of tuna in brine – 185g each (drained and flaked)
1 large tin sweet corn (about 250g drained)
250g (2 cups) frozen green peas
2 tbs fresh / frozen coriander (cilantro) leaves (chopped)
4 small (4g each) vegetable Maggi cubes (crushed)
Maggi liquid seasoning
30g unsalted butter
1 unwaxed lemon zest
2-3 tbs lemon juice
EQUIPMENT
lemon zester
METHOD
Place rice, peas, Maggi cubes and water in a large pot and cook covered on medium fire till rice is ready and there is no more water.
Stir in butter, lemon zest, lemon juice, coriander, tuna and corn.
Remove from fire. Season with liquid Maggi if needed.
Serve to the plates.
Serve 6 people.