This is one of those simple, classic recipes that I often prepare for my girls and they never leave anything on the plate, sometimes even ask for an extra portion.
INGREDIENTS
for the tomato sauce
3 tbs flour
3 -4 tbs butter
400 ml boiling water
1 large vegetable cube
1 tbs died oregano
2 x 400 g tins of chopped tomatoes
½ tbs golden caster sugar (or other fine sugar)
sea salt (to taste)
2 – 3 tbs of cream or full fat milk – optional
EQUIPMENT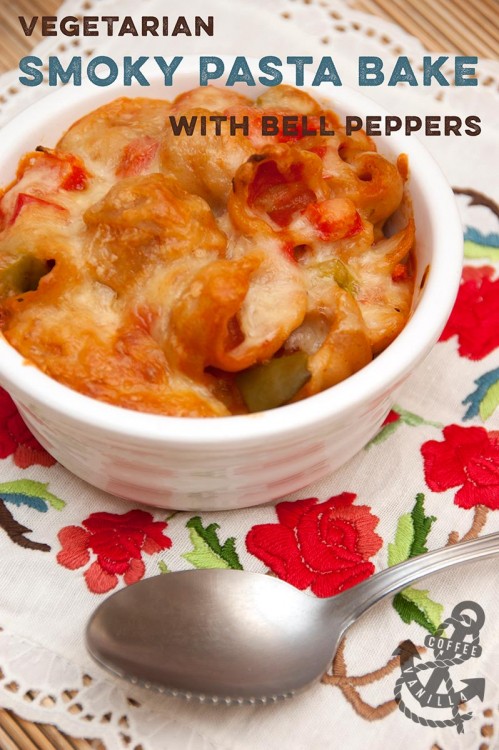 METHOD
Cook pasta, drain and leave aside.
In meantime prepare the sauce: in a jug dissolve cube in boiling water, place butter and flour in a saucepan and heat stirring constantly, add oregano, gradually add also dissolved cube and stir until the sauce is smooth. Add chopped tomatoes, sugar and salt to taste if necessary.
Combine sauce with pasta and chopped pepper and transfer to the baking dish.
Sprinkle everything with fajita seasoning and top with cheese.
Bake in the oven preheated to 200 until cheese is golden brown.
Serve immediately with some salad or vegetable juice on a side.
Makes 5 – 6 portions.
NOTES
If you are preparing this dish for children you can use separate ramekin dishes for them and use less fajita seasoning then for the adults or even skip it all together. The tomato sauce with oregano is tasty on it's own as well.
If you are looking for more pasta bakes then try: Emily's Delicious and filling smokey halloumi pasta bake, Sarah's Family Filling Ham and Vegetable Pasta Bake, Helen's Sainsbury's tuna penne pasta bake, Katie's Easy pasta bake recipes or Mabintu's Baked Pasta with Sausage and Butternut Squash Sauce.
DISCLOSURE: This post contain some affiliated links.