This is my girls' one of the favourite dinners, simple meatballs made from scratch (based on my meatloaf recipe), simple tomato sauce and spaghetti pasta.
INGREDIENTS
for the cheesy meatballs
400 g minced turkey
75 g cheese – I used mature Cheddar (grated)
4 – 5 thick slices of soft while toast bread
2 eggs
½ tsp fine sea salt
½ tbs mustard
1½ tbs ketchup
3 tbs olive oil
½ tbs garlic powder
½ tbs marjoram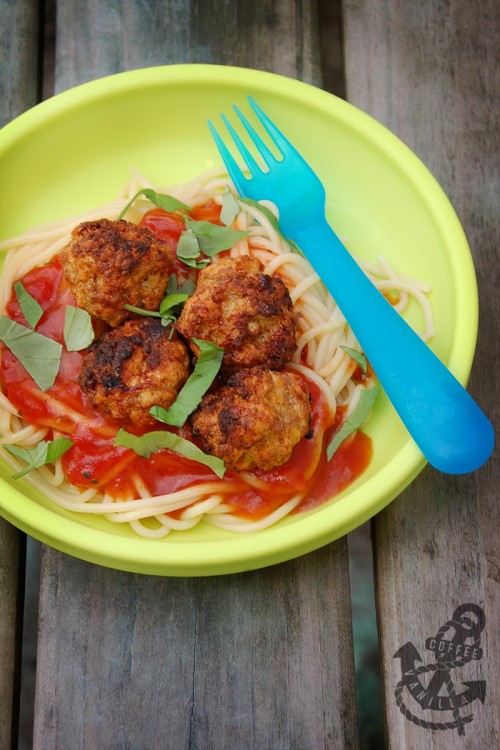 for the simple tomato sauce
2 x 400 g tins of chopped tomatoes
2 tbs potato starch
½ tsp dried oregano
1 cup of boiling water
½ cup of cold water
soft brown sugar to taste
sea salt to taste
fresh basil leaves to garnish
EQUIPMENT
baking tray lined with baking paper
potato masher
mixing bowl with flat base or wide pot
small pot to make the sauce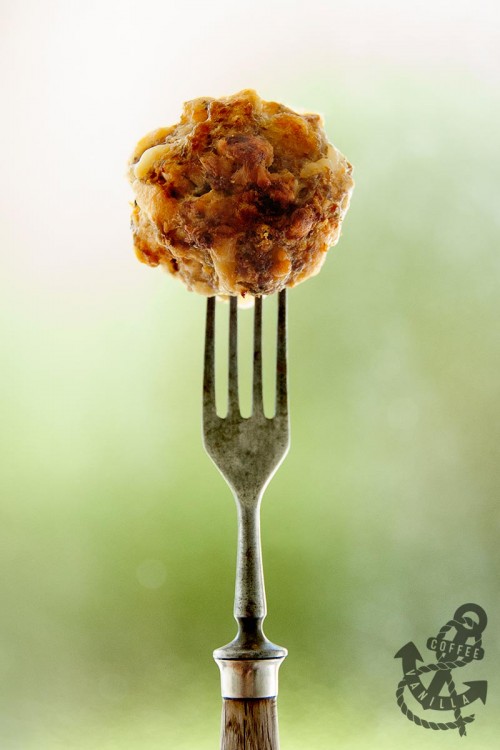 METHOD
In a mixing bowl combine cheese, salt, mustard, ketchup, olive oil, garlic, and marjoram, stir well.
Add also turkey, eggs and bread, mix well with potato masher in a bowl or pot.
Use table spoon to take portion of the mixture at the time, shape them into balls and place on baking tray. There should be enough mix for about 30 balls.
Place in the oven preheated to 200°C (392°F), bake for about 30 – 40 minutes.
In meantime empty chopped tomato tins into the small pot, add also boiling water and oregano, heat until the sauce is bubbling.
Dissolve potato starch in cold water and gradually stir into the sauce as well, cook couple of minutes longer.
Season to taste with salt and sugar.
Serve the sauce over cooked spaghetti pasta, top with meatballs and sprinkle with freshly chopped basil leaves.
Makes 5 – 6 servings.