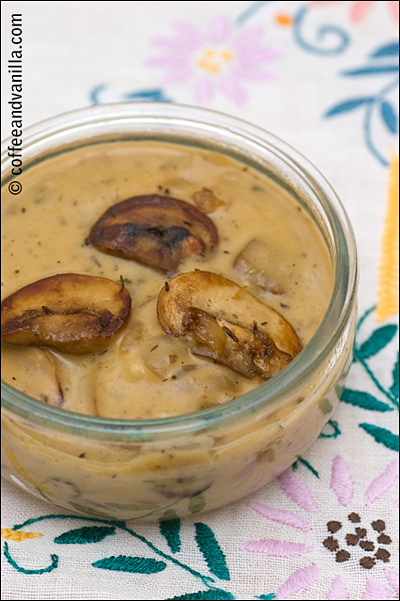 INGREDIENTS
3 tbs plain flour
25g unsalted butter
2 cups of boiling water
1½ vegetable cubes (10g each)
350g button mushrooms (sliced)
2 spoons of butter or oil to fry mushrooms
1 tbs dried thyme
1 onion (diced) – can be omitted if leek used
3 tbs soured cream or crème fraiche
black pepper
1 leek (chopped) – optional
2 carrots (cubed) – optional
METHOD
Fry mushrooms, thyme and onion (if used) on butter or oil until golden brown.
Add also carrots and leek if used and fry some more until soft to your liking. Leave aside.
In a saucepan heat flour and butter stirring constantly until bubbling.
In meantime dissolve cubes in boiling water.
Gradually stir in bullion into the saucepan, bring to boil.
Stir in fried mushrooms and cook for couple of minutes more.
Then season with freshly cracked pepper and soured cream.
Makes enough sauce for 4-6 servings.
Taste good served over rice or pasta.
Looking for more mushroom sauce ideas?
You may want to try Michelle's creamy mushroom & sherry sauce.