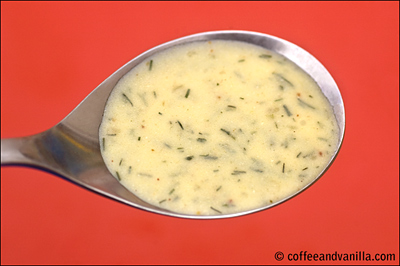 INGREDIENTS
2 cups of boiling water
1½ vegetable cubes (10g each)
25g unsalted butter
3 tbs plain flour
2 pinches of freshly ground nutmeg – optional
3 tbs fresh or 1 tbs dried dill
1 tsp golden caster sugar
4-5 tbs soured cream, crème fraiche or regular cream + some lemon juice
black or rainbow / mixed pepercorns
METHOD
In a saucepan heat flour and butter stirring constantly until bubbling. In meantime dissolve cubes in boiling water.
Gradually stir in bullion into the saucepan, bring to boil, add spices and sugar and continue cooking for about 5 minutes. Stir in cream and optionally lemon juice, season to taste with freshly cracked pepper.
Make enough sauce for 4-6 servings.
Taste good served over baked fish or  / and pasta.
I like it with lots of freshly cracked rainbow pepper.