INGREDIENTS
1½ kg apples before coring (cubed)
3 tbs lemon juice
golden caster sugar to taste (about 2 tbs) – optional

olive oil spray for baking tin
for the crumble
¾ plain flour
75 g unsalted butter (for the lower in calories version replace half of the butter with about 1 tbs natural yogurt)
½ cup soft dark brown sugar
½ cup oats
EQUIPMENT
flat medium cake tin (I used round one that was about 22 cm wide and 3 cm deep), oven proof dish or 6 separate ramekin dishes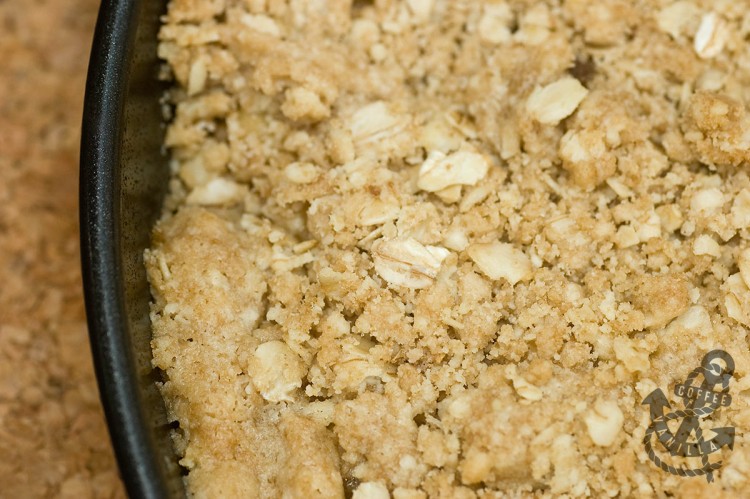 METHOD
Preheat oven to 180°C (356°F).
Peel, core and cube apples, place them on frying pan together with lemon juice and simmer for 3-5 minutes till apples are soften.
Remove from fire, stir in sugar if needed.
Spray tin with olive oil spray and spread apples on the bottom of the tin.
Prepare crumble, mix all ingredients together with your fingers, till mixture start looking like crumble.
Sprinkle over the apples, place in the oven and bake for about 25 – 30 minutes till golden brown and bubbling.
Serve warm or cooled down.
Serves 6 people.
NOTES
If using yogurt you will rather spread than sprinkle crumble mixture over the apples, because it will be a little bit soggy, but it will dry out during baking.
If you are looking for more oaty desserts check out those Quick Chocolate & Coconut Mini Oat Cakes or Apple, Rhubarb & Ginger Crumble.
More British recipes.