INGREDIENTS
for the stock
bones (I used bones of 3 chickens I had in the freezer) – optional, can be omitted for vegetarian version
2½ litres of hot water
¼ celeriac  – about 350 g (peeled and coarsely sliced)
2 carrots – about 350 g
1 parsnip – about 350 g (halved lengthwise)
5 bay leaves
2 tsp allspice / pimento
1 medium leek (halved lengthwise) or medium onion (peeled & halved)
or 2 litres of ready stock
for the soup
4 – 6 garlic cloves (peeled and chopped)
1 small onion (peeled and chopped)
2 tbs unsalted butter or olive oil
900 g jar / 450 g when drained / about 8 sour cucumbers in brine, not pickles (grated, brine saved)
500 g baby potatoes (halved or quartered) or large potatoes (peeled and cubed)
5 – 6 tbs of thick double cream
fresh or frozen dill (chopped)
hard boiled eggs to serve – optional
sea salt – to taste
black peppercorns – freshly cracked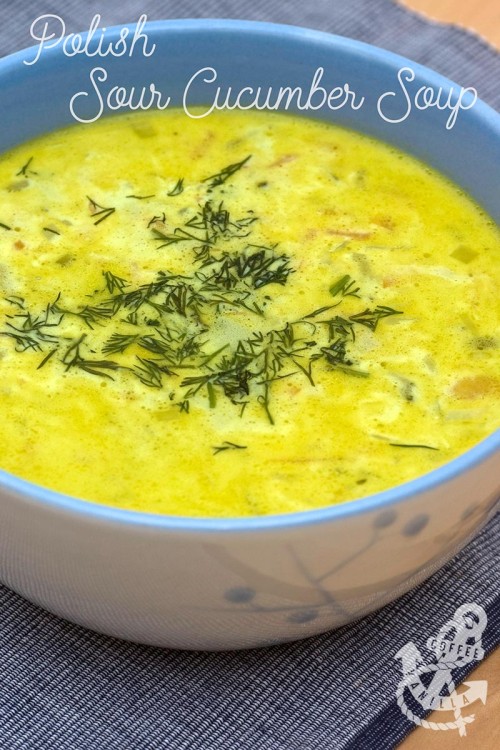 EQUIPMENT
large pot with lid
frying pan
strainer
grater
METHOD
Place all ingredients for stock in a large pot, bring to boil, then simmer covered for about 45 minutes – 1 hour.
When stock is ready remove vegetables and bones from the pot, pour liquid through the strainer and return to the pot, you should have about 2 litres of stock.
Discard bay leaves, pimento, leek and celeriac, grate carrots, leave bones and parsnip aside.
In meantime fry on butter garlic and onions, when browned add also grated cucumbers and fry for while longer.
Add potatoes and grated carrots to the stock, cook covered until potatoes are soft.
Stir in also onions and cucumbers and cook for 15 minutes or longer.
When the soup is ready take about ½ cup of liquid from the soup and combine with cream, then stir this mixture back to the pot with soup. This will prevent cream from curdling.
Stir in also some (to taste) of the brine from the cucumbers.
Season to taste with salt (if necessary) and pepper.
Share to the plates, optionally top with quartered hard boiled eggs, sprinkle with chopped dill and enjoy.
Serves 4 – 6 people.
NOTES
Optionally add to the soup meat from the bones and parsnips if you like.
Use a little bit more cucumbers if you like more sour taste.
It is important to let potatoes cook before adding sour cucumbers, otherwise they won't become soft.
Don't add any salt until last moment, after cucumbers were cooking in the soup for at least 15 minutes, salt may not be needed at all as some sour cucumbers are very salty.
Use less potatoes and serve the soup with home-made Crisp & Easy Baguette Croutons with Cheese.
More Polish recipes and crafts.