Those buns are perfect for kids lunches. You can also use edible pen and turn the bear into a mouse bread roll.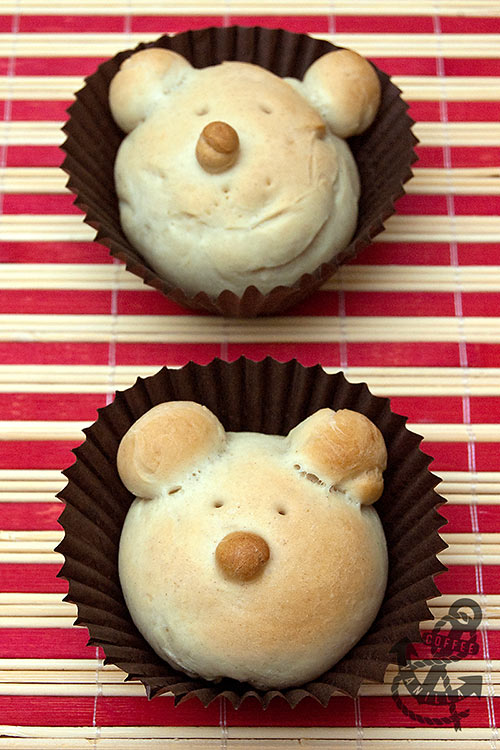 INGREDIENTS
dough leftover from making tuna pies or:

3 cups of plain flour
¼ cup oil (I used grapeseed oil)
½ tbs instant dried yeast
1 tsp fine sea salt
1 tsp fine sugar (I used golden caster sugar)
about 200ml lukewarm water / a little bit less than 1 cup
EQUIPMENT
baking tray
couple of muffin cases – optional
wooden skewer to test the dough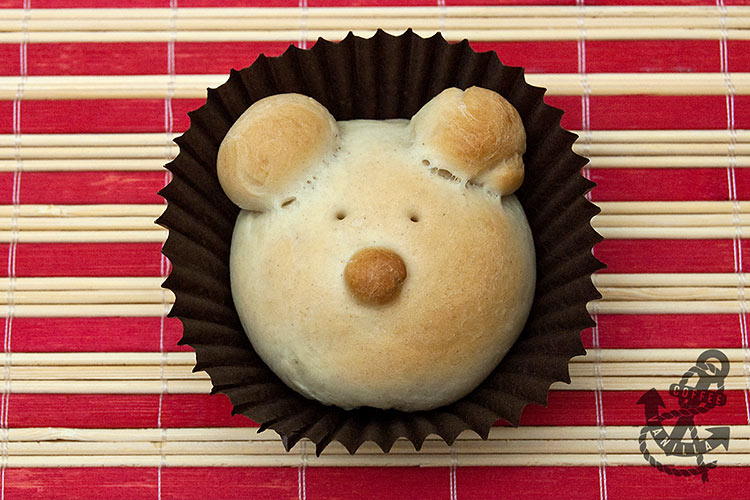 METHOD
Dissolve yeast and sugar in lukewarm water and leave in a quiet warm place for about 15 minutes.
In a mixing bowl combine flour and salt, then add yeast mixture and oil and work the dough until well combined.
Divide pastry into about 10 pieces and create little teddy face out of each, use drops of water to stick ears and nose.
With a skewer mark the eyes, make the holes deep and wide and they will shrink when the dough will rise.
Place the buns directly on the baking tray on in muffin cases and let them rest for about 30 minutes.
Preheat oven to 180°C (356°F).
Bake for about 25 minutes, check with the skewer one or two if the dough inside is baked properly.
Once the buns are baked and golden remove them from the oven.
Serve with some real butter.
Makes about 10 small buns.

NOTES
Make the ears a little longer and they will be perfect for Easter or you could always make Easter Bunny Buns instead.
More cute bread roll ideas: Teddy Bear Bread Rolls by Astral from The Extraordinary Art of Cake, Cute Turtle Breads by Kirbie from Kirbie's Cravings, Dinner Roll Doves by Rhodes Bread or Cactus Bread / Pão Cacto by Moira from Tertúlia de Sabores.