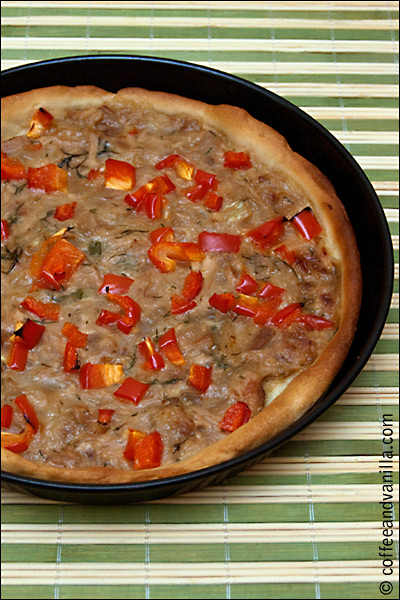 INGREDIENTS
for the yeast pie base

6 cups of flour (about 1kg, leave aside 5 tbs for the topping)
½ cup oil (I used grapeseed oil)
1 tbs instant dried yeast
½ tbs or a little bit more fine sea salt
½ tbs fine sugar or a little bit more (I used golden caster sugar)
about 400ml lukewarm water / a little bit more than 1½ cups
some softened butter to grease the baking trays
for the topping
2 large onions (diced)
50g unsalted butter
previously set aside 5 tbs of flour
600 ml of boiling water
3 fish or optionally vegetable cubes (10g each)
3 tbs or to taste dried or frozen dill
3 x 200g tins of tuna in water (drained)
2 sweet red bell peppers (cubed)
EQUIPMENT
six-seven 20cm (8 inches) wide sandwich trays/tart baking dishes
large mixing bowl
jug
pot to fry onions and make the topping
METHOD
To prepare the dough in a jug dissolve yeast and sugar in lukewarm water and leave in a quiet warm place for about 15 minutes.
Butter the baking trays.
In a mixing bowl combine flour and salt, then add yeast mixture and oil and work the dough until well combined.
Divide pastry into 7 pieces, roll in out and place in buttered baking dishes, spreading the dough to cover also the sides of the trays and let them rest for about 30 minutes. If you are using just 6 trays create from the 7th portion couple of little bread buns for kids.
Preheat the oven to 180°C (356°F).
While the dough is resting in a jug dissolve cubes in boiling water.
In a pot fry also onions on butter until golden brown, stir in flour and fry some more.
Gradually, constantly stirring, add mixture of cubes and water to the onions.
Remove from fire. Stir in tuna and dill.
Spread the tuna mixture evenly on the top of each base.
Sprinkle over peppers and bake for about 25 minutes.
Once the pastries are golden, remove them from the oven, season with freshly ground pepper or hot sauce and serve to the plates.
Make 7 pastries or 6 pastries plus couple of Yeast Teddy Bear Buns (for kids lunchboxes).

NOTES
For the main dish serve with plenty of salad on a side.
Those tuna pies taste also good eaten cold.
I made 6 pastries plus 3 teddy buns from the 7th portion of the dough.
Those pies taste great with addition of some Scotch bonnet pepper sauce.