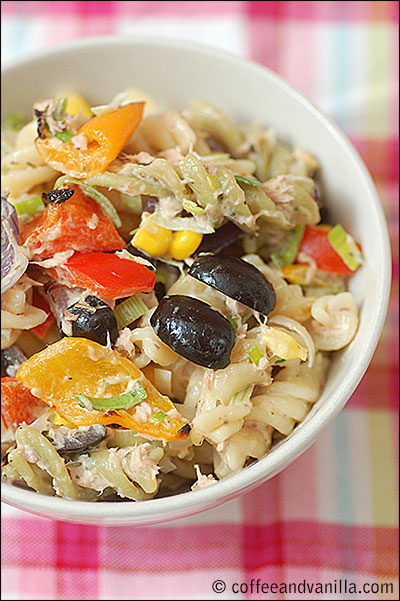 INGREDIENTS
500g tricolour pasta or any other pasta shapes, as long as they are quite chunky, for instance rigatoni
2 x 200 g tins of tuna on brine (drained)
1 x 400g tin of sweet corn (drained)
4 heaped tbs of mayonnaise
2 bell peppers (diced coarsely)
2 large red onions (diced coarsely)
2 tbs olive oil for roasting
1 tbs Caribbean herb mix (thyme, basil, marjoram, savory and parsley)
2 handfuls of pitted black olives (chopped)
1 small leek (cut lenghtwise and chopped)
black peppercorns
sea salt
METHOD
Cook and drain pasta, live aside.
In a mixing bowl mix peppers, onions and olive oil, place on baking tray lined with baking paper.
Roast them for about10-15 minutes in oven preheated to 200°C (392°F).
Once peppers & onions are ready combine them with all the ingredients: pasta, tuna, Caribbean herbs, olives and leek, mix well.
Season to taste with salt and freshly cracked pepper.
Enjoy while still warm or cooled down.
Serve 4-5 people as a main dish or more as a salad.
NOTES
Skip the mayonnaise and use more olive oil or tuna in oil.