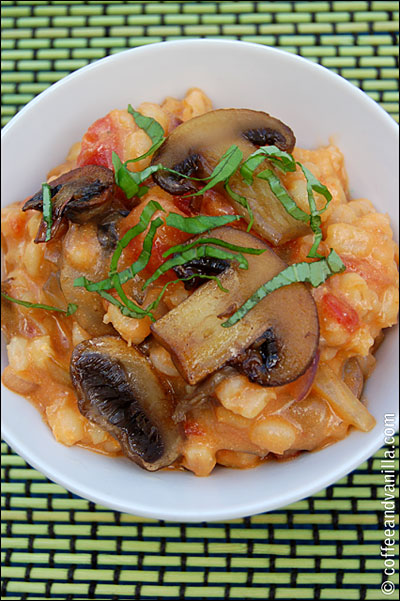 INGREDIENTS
250g pearl barley
12 cups of boiling water
2 x 400g tin of chopped tomatoes
6 vegetable cubes (10g each)
sea salt to taste
crème fraîche or double cream to taste
500-700g button mushrooms (sliced)
1 large onion (diced)
a bit of butter or oil to fry
fresh basil leaves (chopped)
METHOD
Place barley with 8 cups of water in a large pot and cook on medium fire for about 45 minutes or until ready.
Add tomatoes, cubes dissolved in remaining 4 cups of water and continue cooking for about 15 minutes longer.
In meantime fry onions and mushrooms until browned.
Remove pot from the fire, stir in mushrooms and onions.
Season to taste with some cream.
Share to the plates, sprinkle with basil and enjoy.
Serves 6-8 people as a part of meal or many more as a snack.