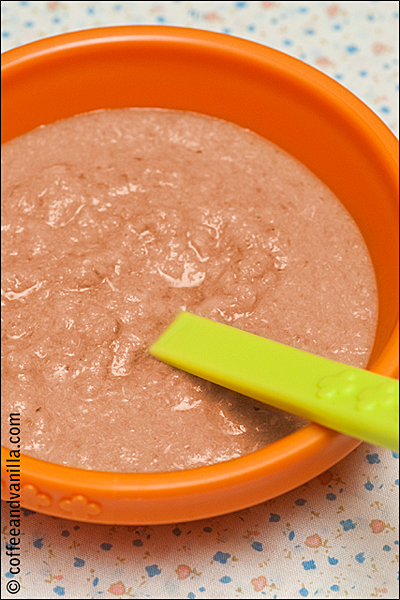 INGREDIENTS
½ chicken breast – about 100g (diced)
couple of baby potatoes – about 100g (peeled and chopped)
couple of fresh basil leaves
2 medium tomatoes – about 100g (halved) or tinned tomatoes
50g green beans – I used dwarf beans (trimmed)
1 small apple – about 10og (peeled and cored)
1 cup of boiling water
EQUIPMENT
hand blender
small pot with a lid
METHOD
Cook covered over medium fire chicken, potatoes, tomatoes, beans and an apple with water until all ingredients are cooked and very soft.
After few minutes of cooking remove tomato skin which should be separated by that time.
Towards the end add basil leaves, cook a minute longer, then blend everything using hand blender.
Share into freezable containers.
Make 5 portions (125 ml each).
NOTES
If the food is too thick just add some more boiled water.
If the food is too watery just add a little bit instant baby rice.
To defrost I like to use traditional pot and a little bit hot water but you can easily defrost it in microwave as well.