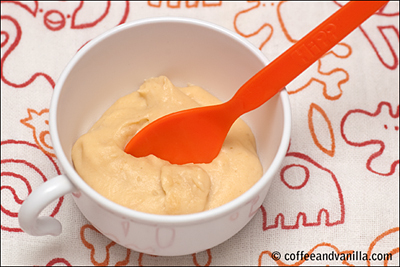 INGREDIENTS
½ chicken breast – about 100g (diced)
1 small carrot – about 50g (peeled and sliced)
100g piece of cauliflower
few baby potatoes – about 50g (peeled and chopped)
3 tbs instant baby rice flakes
2 cups of water
2½ tsp baby's usual milk powder to add later
EQUIPMENT
hand blender
small pot with a lid
METHOD
Cook covered over medium fire chicken, cauliflower, carrots and potatoes with water until all ingredients are cooked and very soft.
Then blend using hand blender.
When the mixture is not so hot any more add baby rice and blend some more until smooth.
Share into freezable containers, just before serving stir in ½ tsp usual baby milk powder.
Make 5 portions (100 ml each).
NOTES
If the food is too thick just add some more boiled water.
If the food is too watery just add a little bit more baby rice.
To defrost I like to use traditional pot and a little bit hot water but you can easily defrost it in microwave as well.