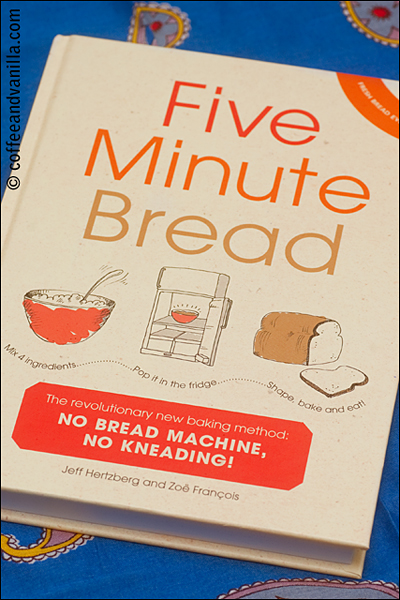 "Five Minute Bread" is an absolutely brilliant book about truly revolutionary bread making method by Jeff Hertzberg and Zoë François who have had written already before couple of bread books together. The book has been published in UK by Ebury.
I'm amazed how fast and easy bread making can be and a little bit angry that I did not read one of  their books before… As a mother of 3 children I can never find enough time but now at least I can bake my bread whenever I feel like and it honestly does not take me more than 5 minutes a day (!) The hardest part is letting the dough to rest in the fridge and then waiting till freshly baked bread is cooled down.
For the last two weeks I've been baking bread from The Master Recipe for Boule (Artisan Free-Form Loaf) and I must admit that the recipe is genuinely fool proof… In the first batch I've used yeast that was 2 months after expiry date… yet, the bread come out very delicious. In the second batch I've forgotten to add salt… to my surprise bread was still the same mouthwatering.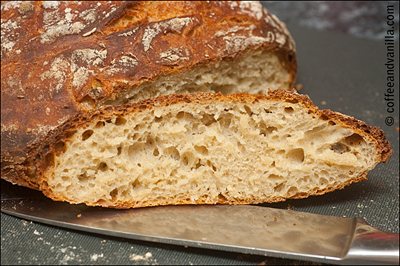 The book itself is very easy to read and beautifully designed. And even if you encounter some problems while baking, most likely you will find the solution in tips section, as I did.
I'm not really a recipe book person but this one is definitely not going to rest on the shelf… There is so many five-minute versions of well known breads to try out! For me the next one will be probably Ciabatta or Eastern European Potato Rye Bread, then I will bake some sweet pastries like Almond Brioche and Bread Pudding.
Oh, I almost forgot to mention that "Five Minute Bread", except bread techniques, include quite a few useful recipes for additions to your bread, such as Tapenade spread or Chilled Moroccan-Style Gazpacho.
The only minus of this book is that the bread tastes too good to eat just a slice or two…
"Five Minute Bread"
AUTHORS: Jeff Hertzberg & Zoë François
PUBLISHER: Ebury Press
FORMAT: Hardcover
SIZE: 174 x 23 x 238 mm
PAGES: 256
LANGUAGE: English
ISBN: 978-0091938949
PUBLISHED: 6th January 2011
With thanks to the authors Zoë & Jeff and Lora & Ed from Ebury Publishing.
You can find parts of this article between my other reviews on Amazon website.