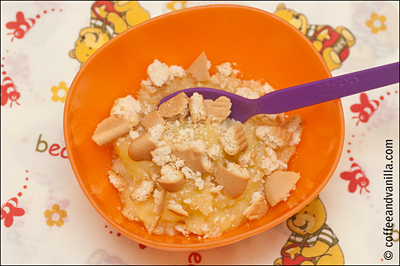 INGREDIENTS
medium apple – about 150g (peeled and cubed)
1 tsp instant baby rice flakes (Organix First Wholegrain Baby Rice)
1 baby biscuit – about 5g (I used Heinz Biscotti Organic)
METHOD
Steam apple with a little bit of water, either in a small pot with lid or in microwavable steamer.
Mash it with fork or mini baby masher. Stir in baby rice flakes, top with crushed biscotti and serve.
Make 1-2 portions.
NOTES
You may need to wait a while for the biscotti to get softer, depending on your baby age.
This recipe will work well also with other fruits, such as peaches.