What are you going to watch with your children this Halloween and half term? We have it already sorted out,  first on the Halloween night my kids (witches Ella & Marissa) be watching Tom and Jerry Tricks & Treats and then later on during the rest of half term holidays Big Top from Scooby-Doo! series… review soon.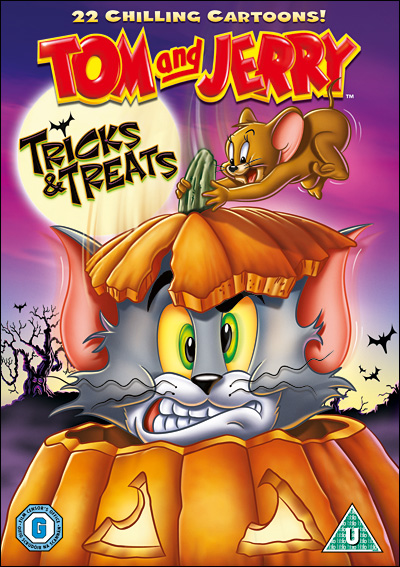 Image: courtesy of  Warner Bros
Tricks & Treats is collection of 20 separate Tom and Jerry cartoons, some of them more spooky than others, but all of them, without exception, are lots of fun not only for kids. And because this is Halloween edition the cat & mouse duo is running around creepy houses, caves and forests  meeting on their way witches, ghosts, werewolves, mummies just to mentions few. Each story is completely separate and quite short what is very useful with kids that can't concentrate on one thing for too long, this way they don't lose the plot.
The DVD includes also 2 bonus episodes for Christmas / winter season.
Tom and Jerry were always my favourite cartoon couple since I was a child myself, when they are around there is no end to playing tricks and chasing each other… Those are good, old style cartoons from different years so also the quality differs in the episodes. Nevertheless "Tricks & Treats" is great collection, worth having at home to watch during long autumn evenings, will definitely keep the kids occupied for hours (!)
Good, old style cartoons, highly recommended for the whole family.
4 out of 5 stars
NOTES
Parts of this arti­cle can be found between our other reviews on Ama­zon web­site.
DISCLOSURE: We received Tom and Jerry "Tricks & Treats" from Warner Bros for review purposes along with Halloween goodies box. We were not financially compensated for this post. All opinions expressed here are our own and we retained full editorial control. This post contains some affiliated links.