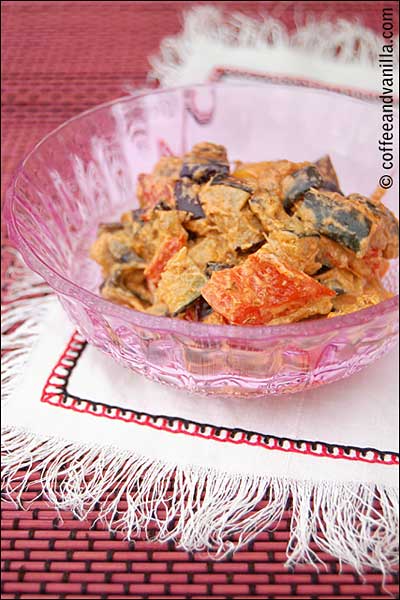 INGREDIENTS
1 large – 2 small aubergines / egg plants (coarsely cubed)
1 large – 2 small courgettes / zucchinis (coarsely cubed)
1 large – 2 small bell peppers (coarsely cubed) I used red & yellow
1 large – 2 small onions (cut into wedges)
1 tbs olive oil for roasting
3 tbs red pesto
2 tbs thick cream / soured cream
sea salt – to taste
some freshly chopped basil for garnish – optional
EQUIPMENT
large roasting tray
mixing bowl
METHOD
Preheat the oven to 200°C (392°F).
Roast veggies drizzled with olive oil for about 30 minutes or a little bit longer.
Remove from the tray, stir in pesto and cream, season with salt to taste.
Optionally sprinkle with some freshly chopped basil.
Serve 4-6 people as a side dish.
NOTES
Other ingredients such as green beans, cherry tomatoes or mushrooms will also work well in this recipe.