There was no Halloween party at my daughter's school so I did not get any outfits this year… in the last moment we got invited to one of the friend's school so I had to come up with something quickly especially that two identical costumes for 2 and 7 year olds are almost impossible to get anyway.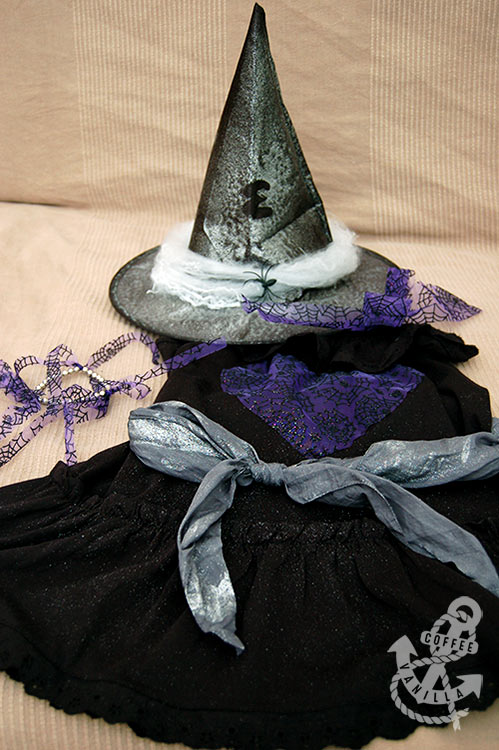 MATERIALS
plain black dresses (on hand)
old scarf, cut in half for the belts
piece of Halloween fabric (99p store)
plain silver bracelets (on hand)
glittery spray (I used silver water based one for floral arrangements, so it will come out in the wash later)
old boots (on hand)
plain witchy hats (less than £1 each, supermarket)
some string for the hats (on hand)
spider web (less than £1, supermarket)
couple of plastic spider rings (they came with the spider web)
self-adhesive address labels – optional
back eyeliner (on hand)
purple eyeshadow (on hand)
black eyebrow crayon (on hand)
blush (on hand)
red/pink lipstick (on hand)
stripy socks or stockings – my daughters were wearing stripy socks on the top of regular thick stockings (it was cold)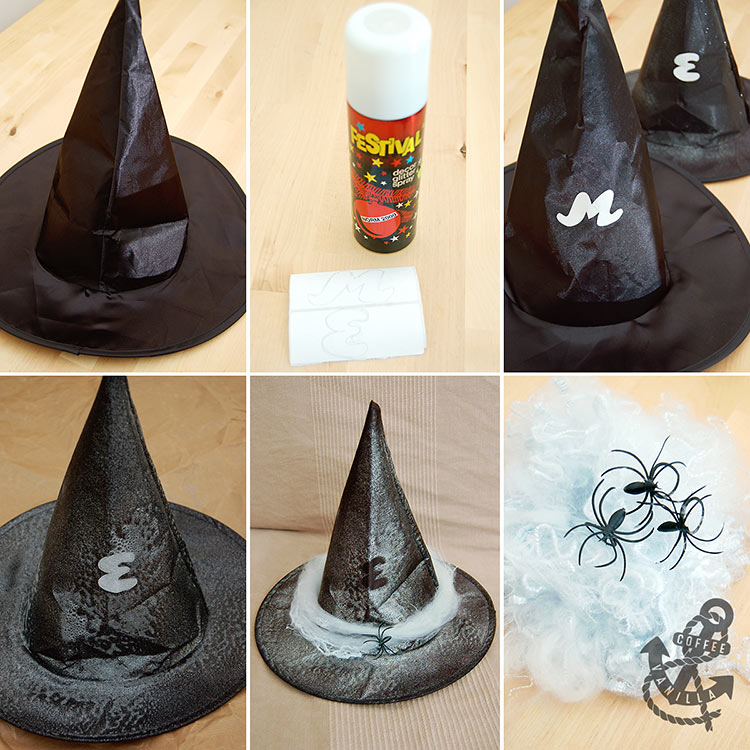 EQUIPMENT
scissors
sewing needle and black thread
large piece of paper or foil to cover the area while spraying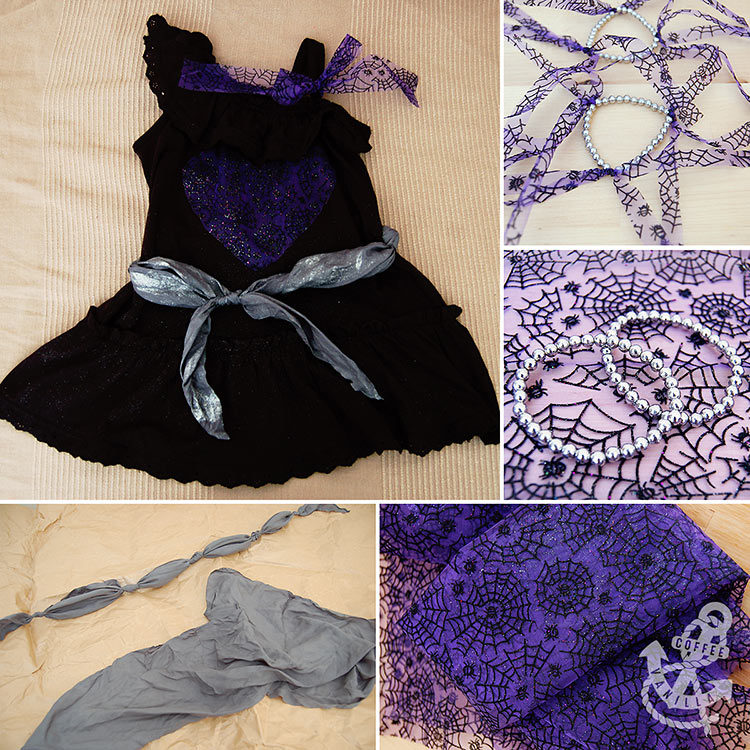 METHOD
First make the hat, it will need to dry for a bit… from the self-adhesive labels cut out shapes or initials and stick to the hats.
Spray the hats with with the spray and remove the stickers quickly as they can stick to the hats for good if left too long.
Once hats are dry thread some spiders on the spider web and tangle it around the top of the hat. The spider web is very sticky so it will stay on its own, no need to stick it.
Use leftover spray to glitter the shoes.
To decorate the dress cut out some shapes from the Halloween fabric, I cut out large hearts which I sewed onto the dresses, I cut out also strips of fabric which I tied to the dress straps in a bow shapes.
Use old square scarf (cut in half diagonally) as a belts, make knots on them, spray with glitter if you have any left.
Tie scraps of the fabric to any bracelet turning it into Halloween one.
Finish with strong make up, black eyeliner, thick eyebrows, purple eye shadow, lots of blush and lipstick. You can also draw moles over the lips for extra effect.
NOTES
If you have time you can also work on some Halloween nail art like I did: Spider Webs & Jack-O-Lanterns.