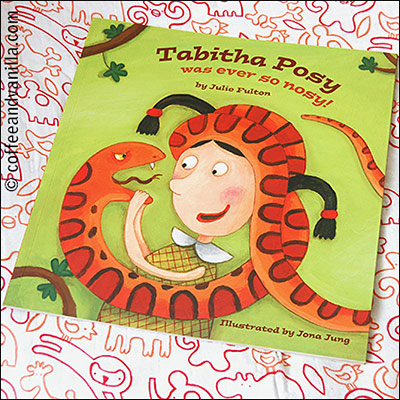 "Tabitha Posy Was Ever So Nosy" by Julie Fulton, illustrated by Jona Jung and published by Maverick is marvelously written book with a moral. It is a part of "The Ever So" series bringing up the most common, not only children's, behaviours such as nosiness, greediness and  egoism, among others.
Tabitha just like many other little girls is very nosy to this extent that she is seen as a pest by her neighbours and anyone who gets in contact with her. One day Tabitha together with her class goes to Zoo causing a lot of trouble, as usual, but  she has also learnt her lesson not to be so nosy ever again. I won't spoil your surprise by telling you how did it happen, you must find it out yourself especially if you have as well little, nosy girl in your life like Tabitha.
My girls who are 2 & & and also very nosy absolutely adore Tabitha's story and we have been reading it already several times.
The book is also available through my Amazon.co.uk and Amazon.com stores.
"Tabitha Posy Was Ever So Nosy"
AUTHOR: Julie Fulton
ILLUSTRATOR: Jona Jung
PUBLISHER: Maverick
FORMAT: Paperback
SIZE: 258 x 254 x 6 mm
PAGES: 32
LANGUAGE: English
ISBN: 978-1848860971
PUBLISHED: 1st February 2013
Marvelously written book with a moral, must read for any little, nosy girl.

5 out of 5 stars
You can find parts of this article between my other reviews on Amazon website.
DISCLOSURE: I received "Tabitha Posy Was Ever So Nosy"  from Maverick for review purposes. I was not financially compensated for this post. All opinions are my own.