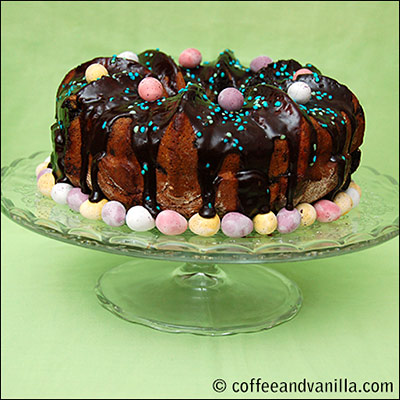 INGREDIENTS
for the dough
600 g plain flour + some more for dusting
3 tbs instant yeast
3 eggs
½ glass of lukewarm milk
1 cup of golden caster sugar
125 g of unsalted butter / half a bar (melted)
seeds from 1 vanilla pod (do not discard the pod, it can be used to make some vanilla sugar)
for the filling
500 g poppy seeds
500 g raisins
2 cups of golden caster sugar
1 tbs almond extract
peel of 1 orange (chopped)
for chocolate glaze
125 g of unsalted butter / half a bar
3 tbs unsweetened cocoa powder
5 tbs golden caster sugar
1 tbs or a little bit more milk or water
sprinkles or other decorations (I used blue sprinkles and mini chocolate eggs)
EQUIPMENT
blender or mincer
whisk
rolling pin
two baking tins (I used silicone bundt cake moulds)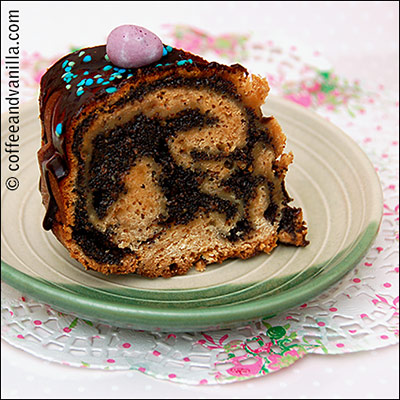 METHOD
Pour lots of hot water over the poppy seeds and soak them for couple of hours or even overnight to make them soft and get rid of bitterness.
To prepare the dough dissolve yeast in milk and give it quick stir with whisk, leave aside.
Combine eggs and sugar and whisk until smooth, add flour, vanilla seeds, melted butter and milk with yeast. Knead the dough on floured surface until it is not sticking to the finger any more. Place in a bowl covered with kitchen towel in quiet, warm place to grow for about an hour.
In meantime drain the poppy seeds, place in a pot together with rehydrated raisins, orange peel, sugar and butter and heat until well combined and there is no excess water.
Remove from fire, add almond extract and then mince or blend. Leave aside to cool down.
When the dough has risen divide it into two portions. Roll out each portion with rolling pin on floured surface to about 1 cm thick layer.
Top with half of the poppy feeling, spread it all over and then roll the dough.
Place the roll carefully in a baking dish. (I used plastic place mat to transfer the roll from the table surface to the baking mould.)
Repeat the same with second portion of the dough and poppy seed mixture.
Bake in the oven preheated to 175°C (350°F) for about 45-60 minutes.
Once the cakes are ready remove them from the moulds and start preparing the glaze.
Melt butter in a small saucepan, add sugar, cocoa powder and milk and continue heating and stirring until the glaze have smooth texture.
Remove from fire and continue stirring to cool down the glaze a bit until it is starting to have quite thick consistence.
Top cakes with the glaze and sprinkles.
Make 2 cakes (12-16 slices each).
With special thanks to my friend Sylwia for lovely cake doilies that she brought for me recently along with many other props!! :)
NOTES
If you have any poppy seed mixture left over you can make "Kluski z Makiem" – traditional Polish dish of pasta with poppy seeds.