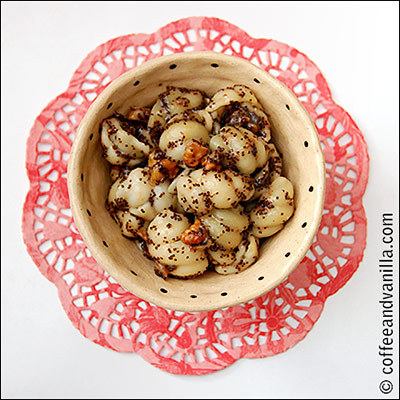 INGREDIENTS
250 g dry pasta (I used conchiglie)
about 2 cups leftover poppy seed mixture from making makowiec
2 tbs unsalted butter
raisins, orange peel and other dried fruits – optional
honey (I used maple syrup instead)
METHOD
Combine poppy seed mixture with butter, nuts, optionally some more raisins, orange peel or other dried fruits and heat over low fire until well combined and fragrant.
In meantime cook pasta until al dente, drain and add to the poppy seed mixture.
Season to taste with honey (or maple syrup).
Serve warm or cold as a snack.
Make 4-5 servings.
NOTES
"Kluski z makiem" are traditional Polish dish served on Christmas Eve.
Another very similar Polish dish is called "kutia" and is made of the same ingredients, except that pasta is replaced with cooked wheat grain.