This is the easiest (and the laziest) Chłodnik recipe you will probably ever come across, even easier than Easy Chłodnik we made previously, and definitely easier than Chłodnik from Scratch.  Despite being so uncomplicated, it tastes delicious, especially on hot summer days!
There are couple of Polish seasonal recipes that I have fond memories of and chłodnik is definitely one of them, along the dill potatoes, bób and yellow string beans topped with breadcrumbs.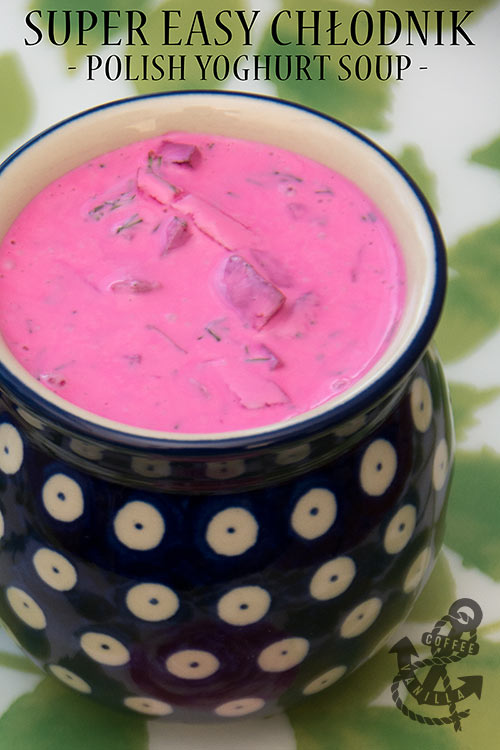 INGREDIENTS
1000 ml natural yoghurt
600 g ready cooked beetroot (diced)
small bunch of dill / about 25 g (chopped)
200 g radishes (diced)
half a cucumber (diced)
milk – optional 
salt & pepper – to taste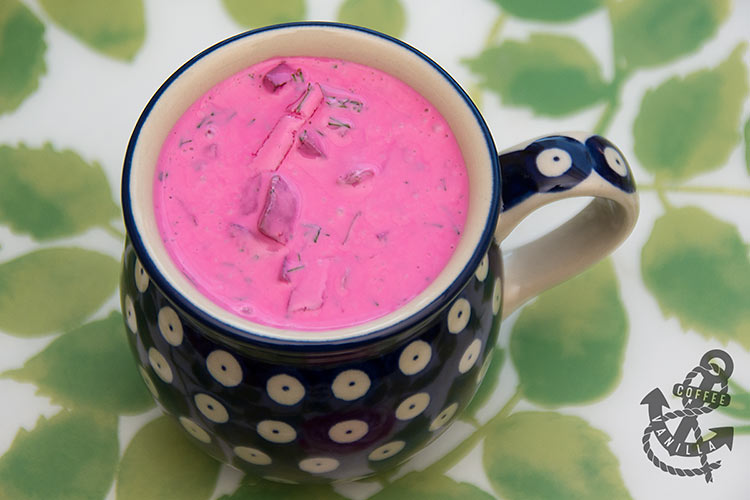 METHOD
Combine all of the ingredients together. Depending on the yoghurt, add also some milk if the soup is too thick.
Season to taste with salt and pepper.
Leave aside in the fridge for couple of hours before serving for the flavours to develop.
Serve chilled on it's own or with some boiled eggs added to the soup.
Makes 5 – 6 servings.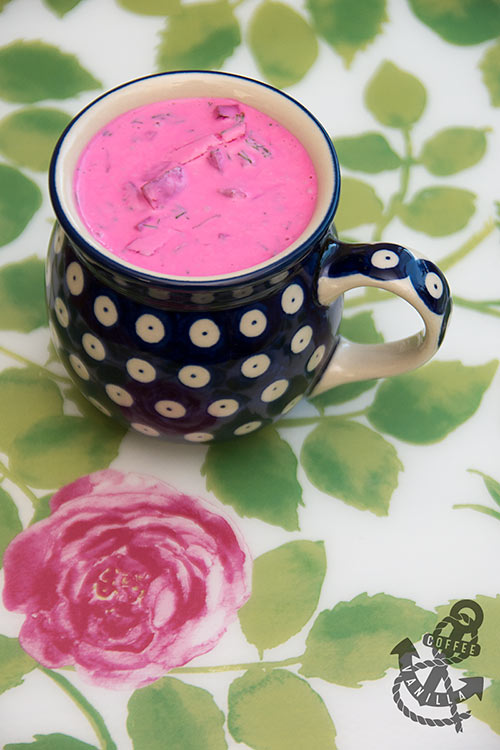 TIPS
Save all of the juices while chopping beetroot and add them to the soup as well for more intense colour.
Prepare the soup in advance and store in the fridge overnight, it will taste even better.
Replace yoghurt with cultured buttermilk for even healthier dish.
NOTES
Traditionally the soup is served with halved hard boiled eggs floating on the top of the soup.
For more recipe ideas take a look at our Summer recipes, Polish recipes and soups.
I'm still yet to make dishes inspired by my newly discovered ancestral cultures (other than Polish), in meantime I'm submitting my Chłodnik recipe to the Inheritance Recipes hosted in August by Solange as it is traditional Polish dish that I always loved.